Video Shows Destruction of Mosul's Grand al-Nuri Mosque and al-Hadba Minaret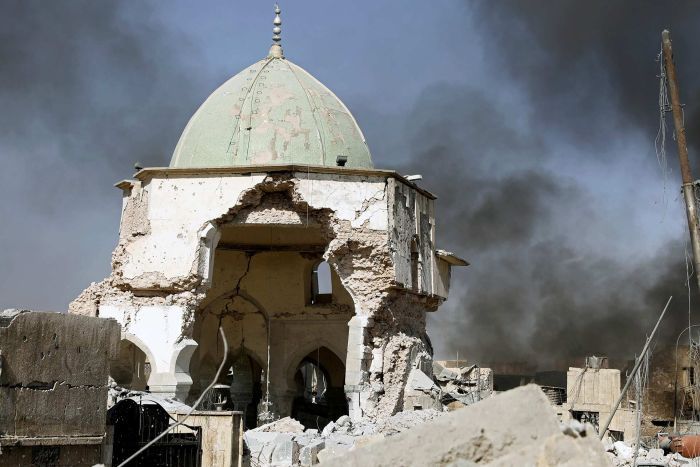 Grand Al-Nouri Mosque survived the Mongols, Ottomans and the US invasion – but not ISIS.
Mosul, 7 Shawwal 1438/2 July 2017 (MINA) – It had survived the Mongols, the Ottomans and the 2003 US invasion of Iraq, but now the leaning minaret of Mosul's Grand al-Nuri Mosque is nothing but a pile of rubble after its destruction at the hands of ISIS, ibtimes reported.
The revered structure became a symbolic site for the terror network after leader Abu Bakr al-Baghdadi declared himself the head of the murderous caliphate from inside the mosque in 2014. But as US-backed Iraqi forces came close to recapturing the area from Isis, the mosque was rigged with explosives and blown up by the terrorists on 21 June.
Now, after Iraqi troops were able to complete their advance and Isis continued their retreat, journalists were given access to the site for the first time in years and were able to document the extent of the damage.
Videos from the mosque showed how 850 years of history was turned into nothing more than broken brick and twisted metal.
Its 45-metre minaret, which became famously known as "the hunchback" or al-Hadba for its lean, was also reduced to a stump.
The structure was built in the 12th century on the orders of Nur al-Din Mahmoud Zangi, who became a hero in the Muslim world for uniting the Arabs against the Crusaders.
Though its destruction represents a great loss for history, many also said it signalled a great loss for Isis whose grip on the region is rapidly declining. (T/RS5/RS1)
Mi'raj Islamic News Agency (MINA)