UN: The Number of Hungry People in the World Has Risen to 815 Million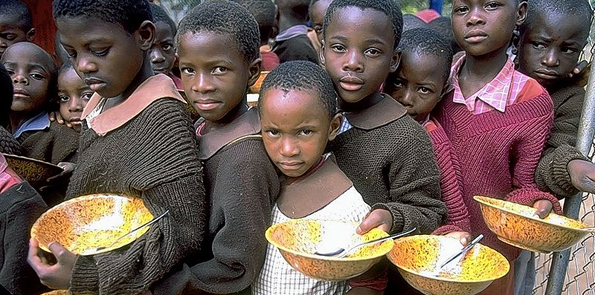 Rome, MINA — World hunger is on the rise after more than a decade's decline, according to a United Nations report which shows that 815 million people did not have enough to eat in 2016, up from 777 million in 2015, DPA reported.
According to The State of Food Insecurity and Nutrition in the World, global hunger numbers fell steadily from 926 million in 2005 to 795 million in 2010, and broadly stabilized until last year's "worrisome" jump.
In terms of percentages, the share of the global population facing chronic food shortages has fallen from just under 15 per cent in 2000 to a low of 10.6 per cent in 2015, and has increased to 11 per cent in 2016.
UN agencies blamed violent conflicts, climate-related shocks – such as the El Nino and La Nina weather phenomena – and slowing economic growth, for "sharply" worsening food security in parts of sub-Saharan Africa, south-eastern Asia and western Asia.
South Sudan, where a famine was declared in early 2017, and north-east Nigeria, Somalia and Yemen – which have been classified as at high risk of famine – were singled out as areas of particular concern.
Friday's report was a joint effort from UNICEF, the World Health Organization, the Food and Agriculture Organization (FAO), the International Fund for Agricultural Development and the World Food Programme.
They said it is "not yet clear" whether the increase in hunger rates is a blip or the beginning of a new trend, but it anyway "poses a significant challenge for international commitments to end hunger by 2030."
FAO Director General Jose Graziano da Silva was cautiously optimistic, noting that in 2017 El Nino or La Nina might not repeat themselves, the global economy was doing better and "progress" was evident in conflict zones like South Sudan and Syria.
"We believe that the huge impact of conflicts [on world hunger figures] will be over next year," he said in a press conference, despite concern about the fallout from the Rohingya refugee crisis in Myanmar and Bangladesh.
In pure numbers, most of the world's hungry people – 520 million – live in Asia. But in relative terms, the hunger crisis is worse in Africa, where 20 per cent of the population – 243 million people – is affected. This rises to 33.9 per cent in eastern Africa.
Among children under 5, 155 million are too short for their age, 52 million are too skinny for their age and 41 million are overweight, the report found. Obesity was said to be on the rise everywhere, affecting 641 million people, or 13 per cent of world's adults.
The UN agencies also lamented the fact that 613 million women of child-bearing age, about a third of the total, suffer from anaemia, or iron deficiency, which represents a health risk to them and their offspring.
Falling hunger rates have until recently been a major success story, largely thanks to rapid economic development in Asia. Two years ago, the UN hailed the fact that more than 200 million people had been freed from hunger since 1990.
According to Winnie Byanyima, head of the global Oxfam charity, the latest hunger figures point to "a disgraceful failure of our international leaders and institutions," which should work harder at solving conflicts and tackling climate change and poverty. (T/RS5/RS1)
Mi'raj Islamic News Agency (MINA)