TURKISH GOVERNMENT DONATES 1000 SHELTER CONTAINERS FOR GAZA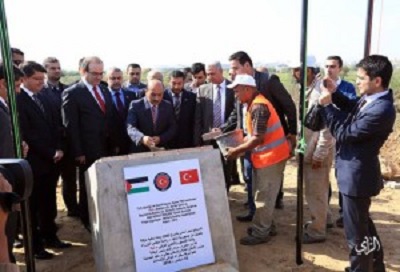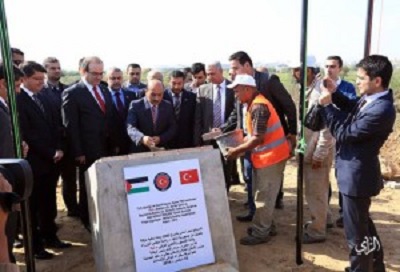 Gaza, 21 Muharram 1436/13 November 2014 (MINA) – The Turkish government, through the State-Owned Enterprises (SOEs) engaged in the construction of "teka", donated 1000 containers for temporary shelters presented for Gazans whose homes were destroyed by Israeli strikes last August.
The government in collaboration with the Ministry of Public Works and Housing of Palestinian unity government  held groundbreaking ceremony for the construction of  the temporary houses in Shujaiyyah region, east of Gaza City, Miraj Islamic News Agency (MINA) correspondent reported from Gaza Strip.
The Public Works and Housing Minister Ahmad al-Husainah at the opening of the ceremony said, The Caravans project granted by the Turkish government were a temporary shelters solution while they wait for  reconstruction proccess.
Al-Husainah stressed that reconstruction needs more than five million tons of building materials due to the devastation suffered by Gaza. He also called on Arab countries and the countries who participated in the construction conference held in Cairo last October to visit Gaza and see the impact of the Israeli strikes.
He  also thanked Turkey for its efforts in supporting Gaza so far. "Turkey always stood next to Gaza in any trouble and always tried to lift blockade on Gaza," he added.
Meanwhile, Sardar Cham, chief of Turkish cooperation and coordination agency of the "Puzzle" asserted that Turkey would always stand beside the oppressed Gazan and deliver aid for them.
Cham considered this project was a few simple steps to help Gazan. "We hoped the people of Gaza received this modest gift from Turks," he lowered.
The temporary houses uses the highest  of its standards. It has been equipped with necessary things.
"This project serves as a message to the people of Gaza that they can still stand on themselves. they will not get futility on their fortitude," said Cham.
Turkish ambassador to the Palestine Mustafa Sarnch call an end to the Israeli blockade on the strip. So that everyone could participate in the reconstruction of Gaza. (L/ p009/R04)
Mi'raj Islamic News Agency (MINA)