Starting from Surabaya, Indonesia Departs 1,800 Hajj Pilgrim Candidates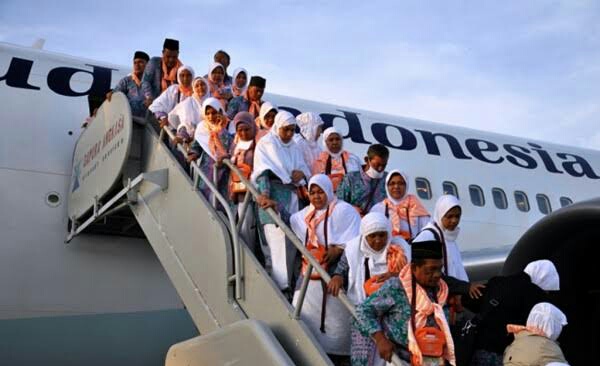 Indonesian Pilgrims (special)
Surabaya, MINA – Indonesian Government begins to depart pilgrims to the Holy Land (Medina and Meca) during 1440 H/2019 Hajj season. Thousands of pilgrims have entered their embarkation since Friday, July 5.
This is stated in the 1440 H / 2019 Hajj Travel Plan (RPH) issued by the Directorate General of Hajj and Umrah (DG PHU), Ministry of Religion, as quoted from Sindonews.
Director of Domestic Hajj Services, Muhajirin Yanis said that there were 1,800 pilgrims to be flown on Saturday. They were divided into four flight groups or commonly called flight groups.
"There are four flight groups that will be dispatched. Two fleets are from Surabaya Embarkation (SUB) and two fleets are from Batam Embarkation (BTH)," Yanis said.
According to Yanis, all pilgrims will be flown by Saudi Arabia Airline. The details, each flight group will carry 450 pilgrims.
Minister of Religion, Lukman Hakim Saifuddin is scheduled to release pilgrims from Surabaya Embarkation. They are the first group from Indonesia to be flown to Medina.
"Surabaya Embarkation will be the first to depart hajj pilgrims. It is planned that the pilgrims were flown at 03.00 local time," he said.
It was further explained that in this year's Hajj season, Indonesia departs 529 flights which are divided into two contingents of flights. The first contingent will be flown on 6-19 July 2019, and the second will depart on 20 July-5 August.
"For the first contingent of pilgrims, it is planned to land in Medina and the second will land in Jeddah," Yanis said.
Just like last year, he explained that Indonesian pilgrims would be served by two airlines, namely Saudi Arabia Airline and Garuda Indonesia.
"For Saudi Arabia Airline, there will be 105,573 pilgrims from Embarkation of Batam (BTH), Palembang (PLM), Jakarta Bekasi (JKS), Jakarta Pondok Gede (JKG), and Surabaya (SUB)," he explained.
Meanwhile, Garuda Indonesia will bring 111,072 pilgrims from the Aceh (BTJ), Medan (MES), Padang (PDG) embarkations, part of Jakarta Pondok Gede (JKG), Solo (SOC), Banjarmasin (BDJ), Balikpapan (BPN), Makassar (UPG), and Lombok (LOP). (T/Sj/P2)
Mi'raj News Agency (MINA)