US 'SEEKS REGIONAL ASSISTANCE' TO STOP CONFLICT IN GAZA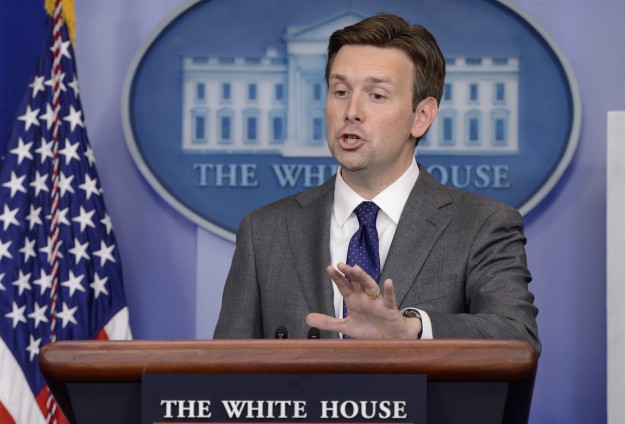 Washington, 14 Ramadhan 1435/12 Juli 2014 (MINA) – The United States will use its relationship with countries in the region to facilitate a ceasefire between Israel and Palestine, according to White House spokesman Josh Earnest.
U.S. President Barack Obama said on Thursday in a phone call with Israeli PM Benjamin Netanyahu that the U.S. was ready to mediate between Israel and Palestine to stop the conflict which re-escalated early this week.
Earnest reiterated on Friday that the U.S. would seek assistance from the states in the region to bring the two sides to the table for cease-fire, Anadolu Agency quoted by Mi'raj Islamic News Agency (MINA) as reporting.
He said: "In November 2012, there was a similar dynamic at play where there were terrorist elements in Gaza launching rockets into Israel. And United States used our relationship with countries in the region, including Egypt and Turkey and others, to bring both sides to the table and create an environment where a cease-fire could be declared and enforced. So we're looking to do something similar."
"We are urging leaders on both sides to account for the safety and security of innocent civilians on both sides and to leave open a channel for a cease-fire to be negotiated."
"It is evident that civilians have been killed, including children. That's tragic and we offer our condolences to the families," he added.
Earnest also said that in addition to Obama's call with Israeli PM including Secretary of State John Kerry there have been a number of calls between U.S. and Israeli officials over the last several days concerning the escalation of the conflict.
Israeli warplanes have pounded the Gaza Strip since Monday as part of a military offensive – dubbed "Operation Protective Edge" – with the stated aim of ending rocket fire from Gaza.
At least 106 Palestinians have been killed by Israel since the operation commenced.
Gaza-based resistance factions, meanwhile, have continued to fire rockets into Israel in response to the unrelenting airstrikes. There have been no Israeli deaths reported as a result of the rocket fire yet.(T/P02/E01)
Mi'raj Islamic News Agency (MINA)