Sacrificial Law is Obligatory for Muslims: Abul Hidayat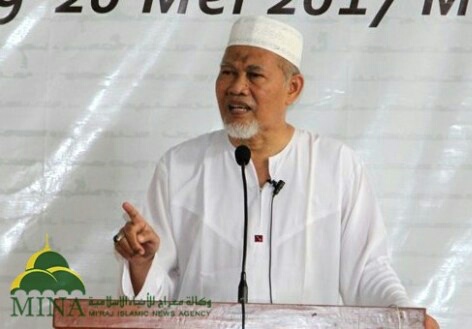 Cileungsi, MINA – Caretaker of the Shuffah Hizbullah Islamic Boarding School and Cileungsi Bogor Al-Fatah Madrasah, KH Abul Hidayat Saerodjie said that the law of sacrifice is obligatory for Muslims who have spacious property and enough sustenance.
"For that, implement it for disadvantaged Muslims. Then, the obligation fell, "Abul said in the" Friday Khutbah "at the Darul Hijrah Mosque, Pasirangin, Cileungsi, Bogor District, Friday, July 19.
He also said that qurban is one of the sunnah worship which should not be abandoned because Allah Subhanahu Wa Ta'ala loves much his servants who want to give part of his wealth for the sake of worship.
"We can reflect on the historical story of Prophet Ibrahim who sacrificed his son Ismail. "What happened to Prophet Ibrahim and Prophet Ismail at that time became the history of Eid al-Adha," he explained.
Then he said that Ismail enjoyed his childhood and was very loved by his father. But at one time, precisely on the night of 8 Zulhijah. Prophet Ibrahim dreamed of being visited by someone carrying a message from Allah, who ordered to slaughter his child.
He invited Muslims to reflect on the story of Prophet Ibrahim and Ismail when Allah commanded him to worship Prophet Ismail. "So that we always remember every property that belongs to Lord and will return to Him," he said. (TL/Sj/P2)
Mi'raj News Agency (MINA)