RUINED GAZA HOMES OFFER LITTLE SHELTER FROM STORM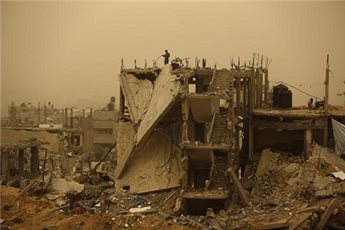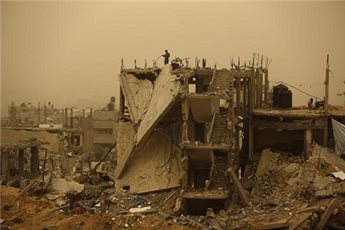 Gaza, 18 Rabi'ul Awwal 1436/9 January 2015 (MINA) – Living by candlelight with no electricity and reliant on sandbags to stop their ruined homes flooding, Gazans who survived last year's war are now struggling with a brutal winter storm.
As millions across Palestine and Israel hunkered down for the worst storm of the winter, freezing rain and gale-force winds battered the Gaza Strip where more than 100,000 homes were destroyed or damaged during the 50-day conflict.
Wael al-Sheikh, 37, lost his home during an Israeli air strike and now lives with his two sons in a tent pitched among the ruins, Ma'an News Agency quoted by Mi'raj Islamic News Agency (MINA) as reporting.
But with no access to electricity, it is impossible to fend off the cold.
Fearing that the winds of 80 kilometers (50 miles) per hour would simply blow their makeshift home away, they have sought refuge with relatives.
Imad Mutlaq's home was also largely destroyed in the July-August war and the wind whistles through the cracks in the walls.
"We have no electricity or heating," he told AFP, describing the first night of the storm as "difficult."
Thirty-year-old Mohammed Ziyad, father to two young sets of twins, is trying to put on a brave face.
During a previous storm, the ground floor of the building where they live flooded, but this time he said the family is well prepared.
"We have stocked up on milk and nappies in case we find ourselves stuck indoors."
With or without a proper roof over their heads, everyone is facing the same problem: the chronic shortage of electricity that has plagued the tiny, impoverished strip that is home to 1.8 million people.
Gaza's sole power station, which was damaged during the war, is struggling with a severe lack of fuel and is only able to supply the enclave with six hours of power per day.
Fire hazards
The persistent power cuts have forced most people to rely on candles for light and wood fires for warmth or to cook, both of which are unsafe.
On Wednesday a child was seriously wounded in a fire caused by a candle, days after two children, aged three and four, died when their home caught fire in Gaza City's Shati refugee camp.
The tragedy sparked a political outcry with several figures fiercely criticizing Hamas, the de facto rulers of the enclave, including some from its own camp.
Islamic Jihad and leftist factions lashed out at both Hamas and the West Bank-based Palestinian Authority of president Mahmoud Abbas — who reconciled their differences and formed a unity government last year — for failing to deal with Gaza's humanitarian crisis since the war.
Officials in Ramallah have declared a state of emergency after much of the West Bank was blanketed in snow.
Gaza, which lies on the Mediterranean coast, escaped the snow but was hit by hail and strong winds.
Raed al-Dahshan, head of Gaza's civil defense, said his staff were facing "a difficult situation which was compounded by a lack of infrastructure" to help those suffering from the storm.
During last year's war, more than 2,200 Gazans were killed and much of the territory was left in ruins. (T/P010/P3)
Mi'raj Islamic News Agency (MINA)