PUMPING SYSTEM ON STANDBY TO PREVENT NATIONAL MUSEUM FROM FLOODING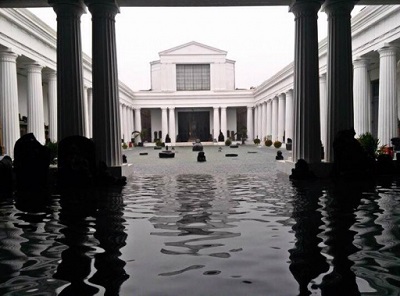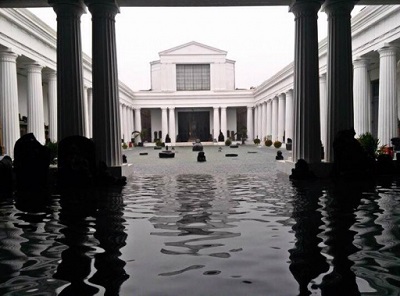 Jakarta, 19 Rabi'ul Akhir 1436/9 February 2015 (MINA) – The National Museum said it had readied three water drainage pumps to prevent floodwater inundating parts of the museum Monday, where a number of Nandi statues and other artifacts were displayed.
"Floodwater entered parts of the building this morning but we quickly resolved the issue by turning on three water pumps, which managed to drain the floodwater from the museum in a relatively short time," National Museum director Intan Mardiana said as quoted by Antara news agency in Jakarta on Monday.
The floodwater started to enter parts of the museum as heavy rain hit the capital city on Monday morning, The Jakartapost quoted by Mi'raj Islamic News Agency (MINA) as reporting.
"The floodwater was up to the ankles. It came from outside of the museum building. It appeared that the drainage system surrounding the museum could no longer accommodate the excess rain water," said Intan.
The floodwater inundating the museum began to recede on around 1 p.m. local time. "Today's flood was the first ever in the history of the National Museum. We have never experienced such an event before," said Intan.
She further said three water drainage pumps were on standby to anticipate further flooding as many valuable artifacts were stored in the museum. She insisted that today's flooding would not affect the artifacts, including Nandi statues, which were endangered by the floodwater.
"We have routine conservation activities to preserve the artifacts," said Intan.
The National Museum is one of the main buildings, including the Presidential Palace complex, affected by floodwater, which inundated areas in Central Jakarta on Monday.
Separately, cultural expert Berthold Sinaulan deplored the severe flooding, which inundated several National Museum collections, including the Nandi statues.
"Actually, I have long regretted the storing of Nandi statues and other artifacts, which are hundreds of years old in such an open space. As a city in a tropical country with a high level of pollution and humidity, Jakarta is not a good city for storing historical objects in such open spaces," he told The Jakarta Post.
"Excessive light exposure, rainwater, haze and dust pollution as well as the floodwater that just recently occurred can cause historical objects made from stones and metals such as Nandi statues and other artifacts to erode or become damaged," he went on.(T/P009/P3)
Mi'raj Islamic News Agency (MINA)