People Across the World Mark Palestinian Nakba Day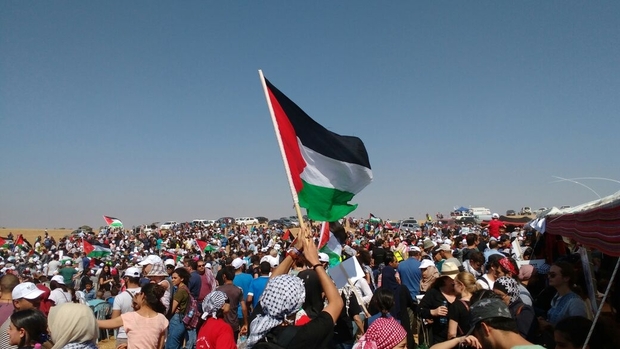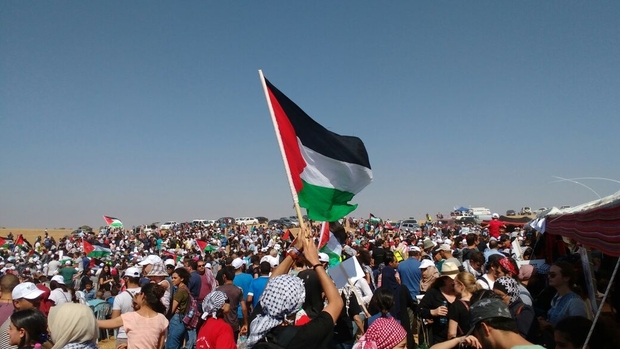 Palestinians march to demand 'right of return' on Nakba anniversary.
Ramallah, 1 Sha'ban 1438/15 May 2017 (MINA) – People across the world are commemorating the Nakba Day which marks the anniversary of the forcible eviction of hundreds of thousands of Palestinians from their homeland by Israelis in 1948, press tv. reported.
The Day of Catastrophe is officially marked every year on May 15, but the occasion this year coincides with a hunger strike being observed by more than 1,600 Palestinian prisoners in Israeli jails.
Some 750,000 Palestinians were expelled from their homes during the 1948 war. Today, more than 7 million Palestinian refugees are living in exile, while 1.8 million Palestinians are living in the world's largest open-air prison in the Gaza Strip.
Ahead of the anniversary, the besieged Gaza Strip and several parts of the world witnessed protests against the Israeli oppression and occupation which has continued for decades.
Hani Islayim, a senior Hamas leader, said the march aimed at telling "hypocrites" that "we are staying in Palestine" to end the Israeli occupation.
"On the 69th anniversary, we say that the land is ours, al-Quds (Jerusalem) is ours and Palestine is ours," he said.
"If some people have forgotten our cause, we say that we haven't forgotten and the occupation will be forced out of our land soon, God willing, and Palestine will stay Islamic and Arab," Islayim added.
Jailed Fatah leader Marwan Barghouti urged Palestinians to carry out acts of "civil disobedience" to commemorate the Nakba Day. He also appealed to Fatah and Hamas to enter into a national reconciliation agreement.
Elsewhere across the world, people rallied in Berlin in remembrance of the Nakba Day. Protesters also gathered outside the Israeli consulate in the Canadian city of Toronto in support of the hunger-striking Palestinians in Israeli jails.
'Israel, UK must apologize for Nakba'
Ongoing journey of pain, loss, and injustice
On Sunday, Secretary General of the Palestine Liberation Organization (PLO) and the chief Palestinian negotiator Saeb Erekat said Israel must acknowledge that its establishment in 1948 was a "catastrophe" for the Palestinians and apologize for it.
The Nakba Day, he said, "means an ongoing journey of pain, loss, and injustice."
Erekat also urged Tel Aviv to open all its 1948 archives and show "the truth of what was done to our people, including its ethnic cleansing policies and the policy of shooting to kill Palestinians that attempted to return home."
The official further urged the UK "to apologize for its role in the Palestinian catastrophe, beginning by the infamous Balfour Declaration and the denial of our national rights."
The document issued in November 1917 by the then British foreign secretary Arthur Balfour said the UK government "views with favor the establishment in Palestine of a national home for the Jewish people," settling the stage for creation of Israel. (T/RS5/RS1)
Mi'raj Islamic News Agency (MINA)