Palestinians Pour into al-Aqsa Mosque Complex for 1st Friday of Ramadan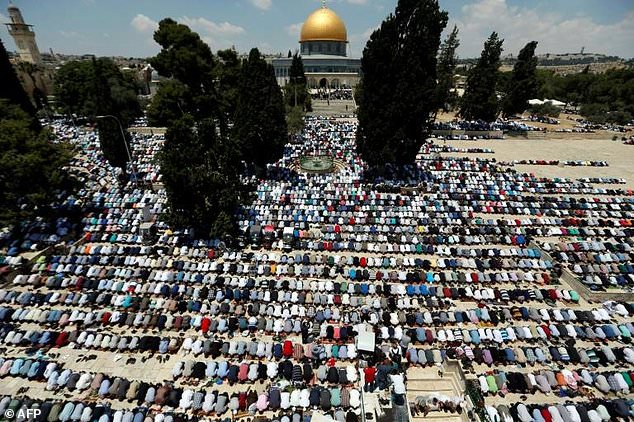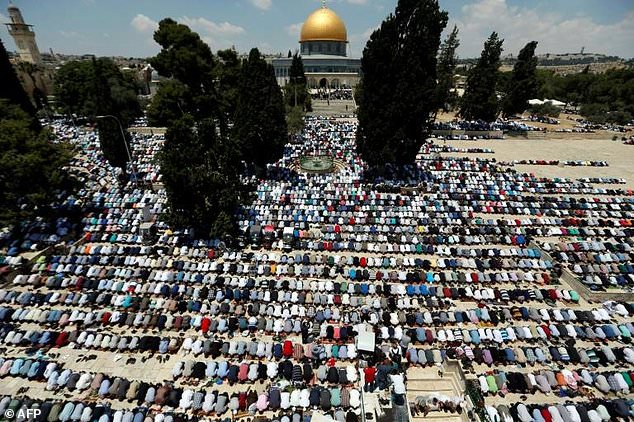 Tens of thousands of Palestinians attend the first Friday prayers of Ramadan at al-Aqsa mosque compound on June 2, 2017.
Jerusalem,8 Ramadan 1438/3 June 2017 (MINA) – Thousands of Palestinians from the occupied West Bank, the blockaded Gaza Strip and Arab communities inside Israel converged on East Jerusalem's Al-Aqsa Mosque complex today to perform the first Friday prayers of the Ramadan fasting month.
Men over 40, children under 12 and women of all ages were allowed by the Israeli authorities to enter East Jerusalem for the occasion without permits.
Since Friday morning, the Israeli authorities have stepped up security around the flashpoint site, deploying thousands of troops in surrounding alleyways and erecting roadblocks at the entrances of Jerusalem's Old City.
"Due to all the security restrictions, it took me four hours to reach Jerusalem from [the West Bank city of] Nablus," Salem Abdulhadi, 52, told Anadolu Agency.
"I usually perform Friday prayers at Al-Aqsa for Ramadan despite the stepped-up security," he said.
Sheikh Azzam al-Khatib, the Palestinian director-general of religious endowments and Al-Aqsa affairs, told Anadolu Agency that some 250,000 worshipers had shown up at Al-Aqsa to attend Friday prayers.
"We're expecting about 150,000 Palestinian worshipers from the West Bank and Gaza Strip to stay for Taraweeh [nighttime] prayers," he said.
Al-Khatib added that the Jordan-run Religious Endowments Authority would distribute food and water to worshipers each day at sunset.
Salem Sabaana, a 40-year-old Palestinian from the West Bank city of Jenin, told Anadolu Agency that it was his first time to visit Al-Aqsa since his childhood.
"I am excited to finally visit and pray at Al-Aqsa again," he said. "I've been waiting for this moment for 30 years."
"Along with my wife and two daughters, I plan to stay here this evening to attend Taraweeh prayers," he added.
His 12-year-old daughter, Safaa, voiced her desire to come to Al-Aqsa each Friday of Ramadan.
"It is my first time to visit Al-Aqsa," she said. "It is very beautiful."
"My dad has promised to bring us here every Friday," she added.

Sacred to both Jews and Muslims
The Al-Aqsa Mosque complex is sacred to both Jews and Muslims and is seen by the latter as the world's third holiest site.
Jews refer to the area as the "Temple Mount," claiming it was the site of two Jewish temples in ancient times.
Israel occupied the West Bank and East Jerusalem — in which Al-Aqsa is located — during the 1967 Arab-Israeli War. In a move never recognized by the international community, Israel annexed the entire city in 1980, claiming it as its "eternal and undivided" capital.(T/RS5/RS1)
Mi'raj Islamic News Agency (MINA)