PALESTINIAN PRISIONERS CONTINUE HUNGER STRIKE, DESPITE GRAVE CONDITIONS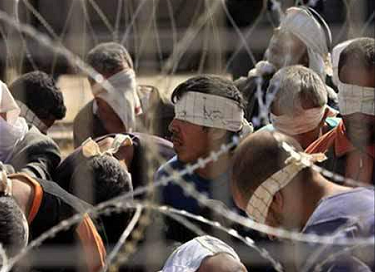 Ramallah, 20 Sha'ban 1435/18 June 2014 (MINA) – The Palestinian administrative detainees entered on Tuesday (17/6), Palestinian prisoners insisted their hunger strike protest, as a protest over the illegal detention.
Ahrar center for human rights said that a senior Israeli prison officer met some prisoners and attempted to convince them to end their hunger strike, but they expressed their determination to continue fighting their hunger battle until Israel ends their administrative detention.
The center stated on Tuesday (17/6), that this officer asked the hunger strikers he met to halt their protest step, claiming that Israel is in a state of war and more prisoners would be transferred to administrative detention. The Palestinian Information Center (PIC) quoted by Mi'raj Islamic News Agency (MINA) as reporting.
The officer also told them that the issue of their hunger strike became neglected and the incident of kidnapped Israelis in Al-Khalil became the focus of media attention.
Lawyer of the Palestinian prisoner society Jawad Boulos, who visited on Monday Beilinson hospital, said that six Palestinian hunger strikers there have been infected with a contagious virus in their throats.
Boulos added that the doctors in the hospital told him that the virus resulted from the damaged immunity of the hunger striking prisoners and warned of the gravity of their health conditions, especially since they suffer from irregular heartbeats.
Previously, more than 120 Palestinian prisoners on hunger strike since 24 April open protest of "administrative detention" of Israel, which imprison without trial or charge and enable Israel to imprison Palestinians for six months. Detention  order may be extended for an indefinite period.
More than 5,000 Palestinians were reportedly detained in Israeli occupation jails, nearly 200 of them under administrative detention orders.(T/Nidiya/E01)
Mi'raj Islamic News Agency (MINA)