Palestinian Prime Minister Submits His Resignation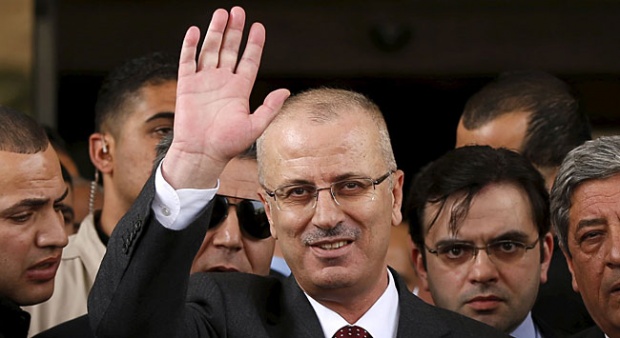 Ramallah, MINA – Palestinian Prime Minister Rami Hamdallah has submitted his resignation on Tuesday, just days after the Palestinian Authority (PA) President Mahmoud Abbas announced plans to form a new government.
In a statement, PA spokesman Yusuf Al-Mahmoud said, "the prime minister and his minister welcomed [Fatah, the Palestinian faction which dominated PA's decision] to form a new government."
"Prime Minister Rami Hamdallah has placed his government in helping (assigning) the President of the Authority [Abbas]," Al-Mahmoud added, the MEMO reported.
Hamdallah confirmed the statement in a statement on his official Twitter account, writing: "We are putting our government in helping President Mahmoud Abbas and we welcome the recommendations of the Fatah Central Committee to form a new government."
Hamdallah's resignation came after Abbas's request this weekend after the latter announced that a new Palestinian government would be formed.
Analysts have seen this is an attempt of Fatah to strengthen its grip on PA after declining popular support and challenges from other Palestinian factions, Hamas (which govern the blockaded Gaza Strip).
Although Hamdallah is affiliated with Fatah, he does not hold an official position in the organization. Some Fatah leaders have been disappointed by their performance as prime minister, directing them to seek more "friendly" alternatives, the Jerusalem Post reported.
Although it is not yet clear who will lead the new government, several names that have succeeded PM Rami emerged, including: Minister of the Palestinian Economic Council Mohammed Shtayyeh, Secretary of the Executive Committee of the Palestine Liberation Organization (PLO) Saeb Erekat, and Fatah Azzam Al-Ahmed Executive Committee Member.
Abbas's new government will only consist of members of the PLO, a symbolic umbrella organization consisting of a number of Palestinian factions. However, because Hamas and Islamic Jihad are not part of the PLO, they will not be included in the new government.
This step has been interpreted as a deliberate attempt to exclude Hamas which won the election of the Palestinian Legislative Council (PLC) in 2006 from the government cabinet.
Hamas has criticized Abbas's plan, with the movement's spokesman Fawzi Barhoum saying, Fatah's call to form a new government consisting of PLO factions would strengthen divisions between the West Bank and the Gaza Strip.
Another Hamas spokesman, Hazem Qassem, called a hard action blow to achieve Palestinian national unity.
Other Palestinian factions have refused to take part in forming a new government, including the People's Front for the Liberation of Palestine (PFLP) and the Democratic Front for the Liberation of Palestine (DFLP)
Fatah and Hamas have been involved in a bitter feud since the last victory in the PLC election. When Fatah refused to give up control of the government, there was a civil war between Hamas and Fatah in the Gaza Strip. Hamas emerged victorious and has ruled a blockaded enclave since 2007.
The PA government has been around since mid-2014 and is intended to act as a "national unity government" after a reconciliation agreement between Fatah and Hamas. However, the agreement was quickly stalled after Israeli aggression in Gaza in 2014.
Since then, Abbas has rejected his involvement with Hamas, imposed sanctions on the Gaza Strip, refused to vote and dissolve the PLC. (T/Sj/P2)
Mi'raj News Agency (MINA)