Palestinian Injured by Israeli Bullet to the Head While Trying to Cross Separation Wall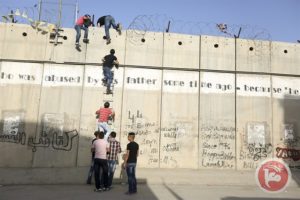 Bethlehem, 09 Sya'ban 1437/17 May 2016 (MINA) – Israeli forces shot and injured a Palestinian east of Bethlehem in the southern occupied West Bank as he tried to reach Jerusalem through Israel's separation wall on Sunday evening.
Local sources said 32-year-old Ahmad Abu Omar from Bethlehem was shot with a rubber-coated steel bullet to the head. He was trying to pass the separation wall from the outskirts of the village of Dar Salah east of Bethlehem to work in Jerusalem.
Abu Omar was evacuated to al-Hussein public hospital in Beit Jala, Mi'raj Islamic News Agency (MINA) reported, quoting Ma'an..
The hospital could not be reached for comment regarding his medical condition.
An Israeli army spokesperson said they were looking into the reports.
On May 8, another Palestinian was shot and injured in the leg by Israeli forces as he attempted to cross over the separation wall in Dar Salah to work in Jerusalem.
A local council member for the village said at the time that nine Palestinian workers had been shot and injured in the village over the span of a few days while trying to pass the separation wall, and that Israeli soldiers fired gunshots and tear gas canisters every morning at the village's houses as they chased workers attempting to enter Jerusalem.
Debilitating poverty and lack of employment drive many workers in the occupied West Bank to enter Israel unlawfully by slipping through gaps in Israel's separation wall.
The section of the separation wall near the villages of Dar Salah, al-Khass, and al-Nuaman is secured only by chain fences, which makes it easier for workers to cross stealthily.
Last year, there were as many as 112,300 Palestinians employed in Israel and Israel's illegal settlements — about 12 percent of the Palestinian workforce — according to the Palestinian Central Bureau of Statistics (PCBS).
Israeli forces have come under repeated criticism for excessive use of force against Palestinians that often results in death or injury. (T/R07/R01)
Mi'raj Islamic News Agency (MINA)