Officially Operating, MRT Jakarta Presents Better Transportation Integration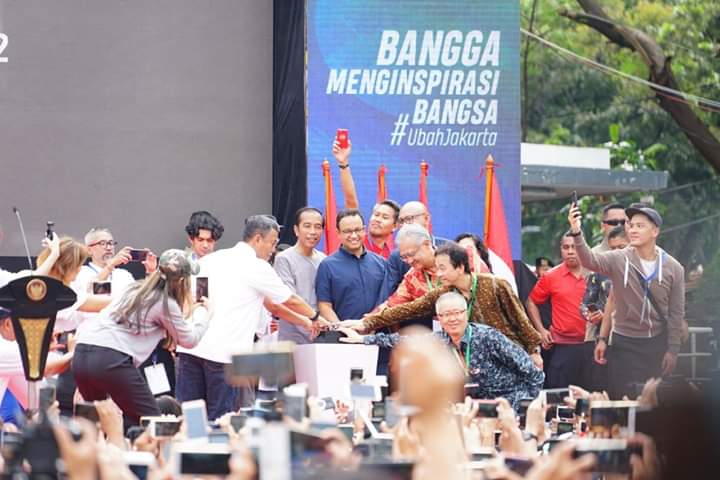 MRT Officially Operated (Japan Embassy Facebook)
Jakarta, MINA – Mass Rapid Transit (MRT) Jakarta officially operates today after inaugurating by Indonesian President, Joko Widodo, on Sunday.
The Jakarta MRT is part of the integration between modes of transportation in Jakarta through the Jak Lingko program, which is expected to improve transportation services and the image of Jakarta as the State Capital, while at the same time increasing the culture of public discipline in using public transportation.
In the inauguration which took place at the Roundabout HI MRT Station, DKI Jakarta Governor Anies Baswedan also attended to accompany Indonesian President Joko Widodo along with a number of Working Cabinet Ministers and other invited guests.
In his report to the President, witnessed by thousands of people who were present at Hotel Indonesia Roundabout, Central Jakarta, Governor Anies called the Jakarta MRT as part of Jak Lingko, a breakthrough integrated transportation mode, ranging from small vehicles to large vehicles.
"We also encourage the Integrated MRT to become part of Jak Lingko, a system of integration of capital transportation, from small vehicles to large vehicles, from the first mile to last mile. At present, Jakarta MRT has been integrated with TransJakarta. In the future, we will continue to integrate with other transportation modes such as LRT and Commuter Line, within the framework of Jak Lingko. And we will continue to guard MRT second phase development and subsequent phases, "said Governor Anies.
On that occasion, Governor Anies also conveyed the readiness of the Jakarta MRT to support the needs of residents who wished to switch from using private vehicles to public transportation.
The transport capacity of a series of MRT trains is around 1,950 people one way, which is based on the number of trains in a series of six, with fifty seats provided on each train, so that in one train it can accommodate around 350 passengers with standing capacity and full seats.
"The estimated passenger per day at the beginning of operation is 65,000 people per day, and we will gradually increase to 130,000 per day next year," said Governor Anies.
To further optimize its services, the Jakarta MRT will also be integrated with a Transit Oriented Development (TOD) area in Dukuh area, near Sudirman Station. Going forward, this location will combine and connect various modes of transportation such as MRT, LRT, commuterline trains, Transjakarta, Airport Trains to other urban public transportation. (T/Sj/R04)
Mi'raj News Agency (MINA)