OBAMA THREATENS NETANYAHU WITH US VETO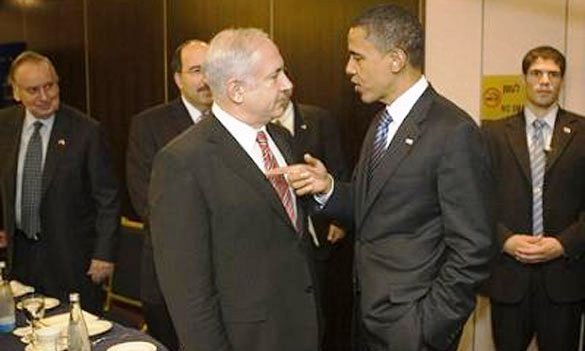 New York, 12 Muharam 1435/5 November 2014 (MINA) – The US President Barack Obama has threatened to lift the ban on the veto given to Israel, a decision that many view as a threat to Israel's existence, Israeli news sites reported today.
The Israeli newspaper Maariv reported that Netanyahu supporters are worried at what they feel is Obama's betrayal of Israel at the United Nations. The Israeli newspaper went on to describe the current tensions as "quite shocking and something that negatively affects relations between Tel Aviv and Washington", Middle East Monitor quoted by Mi'raj Islamic News Agency (MINA).
Maariv quoted an Israeli politician as saying: "Obama intends to abandon Israel as it faces the UN Security Council in an effort to block Israel's decision to build on Palestinian territory that has been occupied since 1967."
It was also reported that Prime Minister Benjamin Netanyahu told only a small number of his confidants about the true nature of this impending threat including Jewish Home members Naftali Bennett and Uri Ariel among others in his circle.
According to the newspaper, Netanyahu told his political circle that Obama plans to abandon Israel at the United Nations and that this will have many consequences. "This step was what Israel feared the moment Obama was re-elected and here it is happening today," Netanyahu added.
The paper said: "Obama intends to destroy the most sacred of holy relationships between Israel and the United States and he intends to use the US veto against Israel at the UN. Without the power of the US veto, Israel would not be able to stay."
It is unknown whether or not a proposal is even on the Security Council's table or if any discussions are being had that could potentially block Israel's decision to build settlements in the occupied territories.
The report went on to say: "There should, in fact, be nothing that threatens the nature of the relationship between the United States and Israel. If Israel cannot rely on the United States, this would require a change in the foundational structure of Israel's security and international relations platform. The power of the US veto is what has ensured Israel's stability in the region thus far and it remains essential to its position within the region, as it has been in past agreements with Egypt following the 1973 war."(T/R04/R03)
Mi'raj Islamic News Agency (MINA)