Nigerian Ulama: Media Plays a Role in Raising Public Awareness of the Importance of Sharia Economics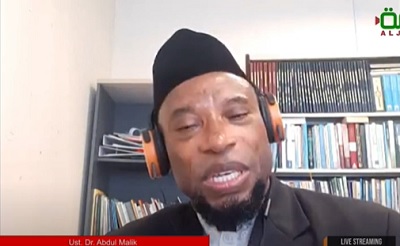 Ulama from Nigeria, Ustaz Abdul Malik (photo: Special)
Cileungsi, MINA – Ulama from Nigeria, Dr. Ahmed Abdul Malik highlighted the role of Islamic media in increasing public awareness of the importance of the Islamic economy.
"The media has an important role in making people aware of the sharia economy, especially in societies where the majority are Muslims," ​​he said in the Tabligh Akbar at the Al-Fatah Islamic Boarding School, Pasirangin, Cileungsi, Bogor, West Java on Sunday.
The media also serves as a liaison between the community, religious scholars and the government in building the people's economy, especially regarding fatwa and implemented policies.
"At the same time, the media is also a supervisor of government policies when there are things that are not in accordance with the Shari'a. The media is also one of the keys to success in building the Muslim economy." he added.
Abdul Malik is an alumni of Syarif Hidayatullah State University, Jakarta. Currently he is a lecturer at a university in Malaysia and actively writes about sharia economics in international languages.
The Tabligh Akbar and the Sya'ban Festival 1444 H carry the theme, "Building the Ummah's Economy with the Spirit of Ramadan in Congregational Life Towards the Liberation of Al-Aqsa Mosque".
This year's event contains various activities such as the UMKM Bazaar and Expo, Social Service, Blood Donation, Book Review and the top event, namely Tabligh Akbar Sya'ban 1444 H. (T/RE1)
Mi'raj News Agency (MINA)