NGOS CONDEMN SLOW DONORS OVER GAZA RECONSTRUCTION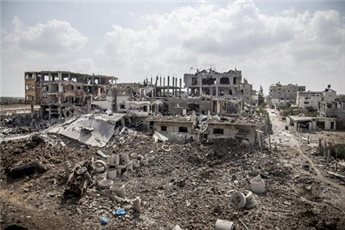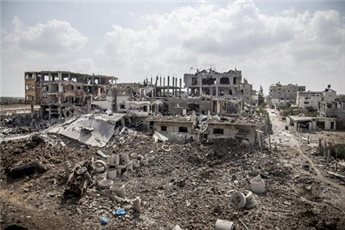 Paris, 25 Jumadil Akhir 1436/14 April 2015 (MINA) – Six months after donors pledged billions of dollars for devastated Gaza, most of the money remains blocked, and reconstruction efforts are painfully slow, a coalition of aid groups said Monday.
The report also condemned the international community for failing to help open the blockaded Palestinian territories up to each other, to broker a lasting ceasefire with Israel and to hold the two sides accountable, Ma'an News Agency quoted by Mi'raj Islamic News Agency (MINA) as reporting.
"If we do not change course now to address these core issues the situation in Gaza will only continue to worsen," Association of International Development Agencies (AIDA) said.
"Without economic, social and political stability, a return to conflict — and the cycles of damage and donor-funded reconstruction that accompany it — is inevitable," the coalition added.
The report comes six months after participants in the Cairo donor conference pledged about $5.4 billion in aid for Gaza, flattened by a 50-day war that killed 2,200 Palestinians and 73 Israelis.
"Six months later, reconstruction and rehabilitation have barely kicked off," said the report, written by major charities including CARE International, Oxfam, Save the Children and the Norwegian Refugee Council.
"Donors should make good on the pledges made at the Cairo conference and move forward with reconstruction and recovery projects for Gaza," it said, adding that funding should immediately be made available to allow housing repairs.
According to the report, the war completely destroyed 12,400 houses and damaged over 160,000 homes.
Yet "there has been no accountability to address violations of international law, only 26.8 percent of the money has been released, reconstruction and recovery have barely begun, and people in Gaza remain in dire straits", AIDA said.
The war displaced more than a quarter of Gaza's population of 1.7 million and left 100,000 people homeless.
The report meanwhile urged Israel to allow Palestinians to freely move back and forth between the West Bank and Gaza, "in line with their obligations as an occupying power".
"The international community, in particular the Quartet of the US, the EU, Russia and the UN, should propose a time-bound plan to support an end to the blockade," AIDA added.
The aid groups also said the two sides in the fighting must be held legally accountable.
"The international community must demand an end to violations of international law, and push for greater accountability of all parties, including guarantees of non-repetition," the report said.(T/P008/R03)
Mi'raj Islamic News Agency (MINA)