MUI Holds Halal Bihalal Entitled "Knitting Ummah Solidarity to Build the Nation"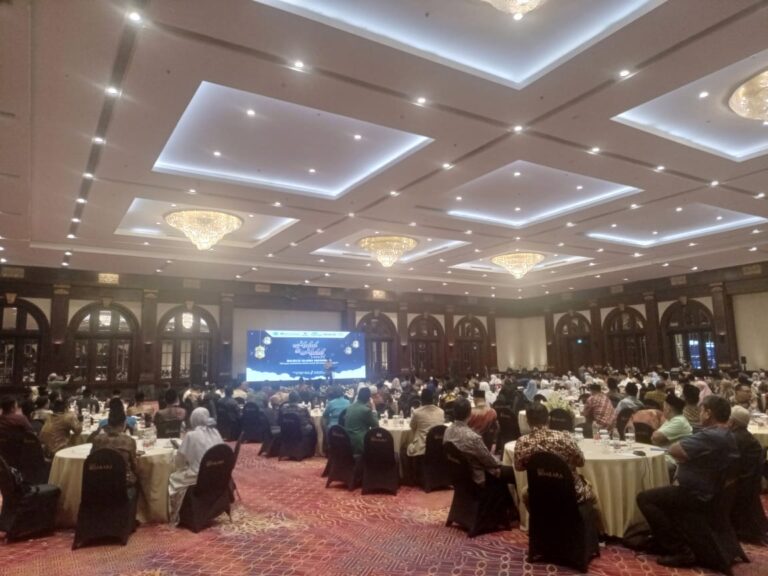 Jakarta, MINA – The Indonesian Ulema Council (MUI) held Halal bi Halal entitled "Knitting Ummah Solidarity to Build the Nation", in Jakarta on Thursday night.
Deputy Chairperson of the MUI, Dr KH Marsudi Syuhud in his remarks said the importance of friendship between all components of the nation, especially ahead of the upcoming election.
"No matter how hot the situation is, especially on social media, we must all remain friendly, harmonious, safe, comfortable and happy," he said in front of the nation's components, which consisted of clerics, leaders of Islamic organizations, state officials, political figures, and various religious figures.
According to him, with friendship there will be beneficial connectivity. As for differences in political choices, do it with healthy competition, by making creative programs.
"Unhealthy competition is a disease of friendship," he said.
Because of that, he hopes that the Indonesian Ulema Council, as the main house of Islamic mass organizations in Indonesia, can become a bond between the components of the nation.
Chief Organizer, KH Muhammad Cholil Nafis in his remarks said that his party invited various components of the nation, including religious assemblies, to maintain solidity in one vision of national unity.
"We hope that from day to day the unity of the nation's children will be maintained ahead of the general election. It's nice to look at and nice to feel, you can't look down on one another," said KH Cholil, who is also the head of the MUI for Da'wah and Brotherhood.
Several figures were present at Halal bi Halal MUI, including: Coordinating Minister for Political, Legal and Security Affairs Prof. Dr. Mahfud MD, Coordinating Minister for PMK Prof. Dr. Muhadjir Effendy, Menparekraf Sandiaga Uno, Chairperson of the Indonesian Parliament Puan Maharani, Democratic Party chairman Agus Harimurti Yudhoyono (AHY), as well as a number of ambassadors from friendly countries. (T/RE1)
Mi'raj News Agency (MINA)