Mount Merapi Erupts Releasing Plumes, Lava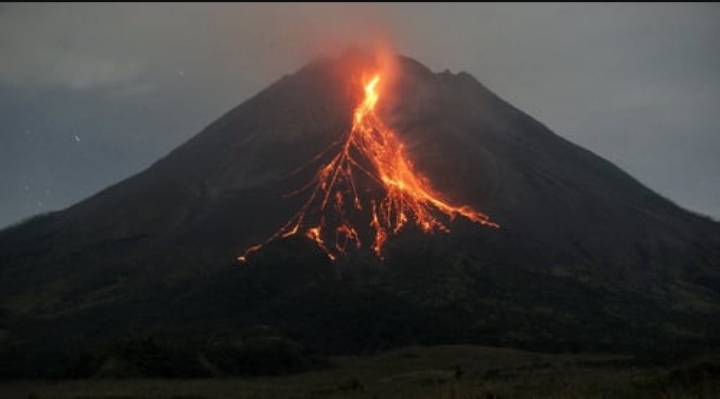 Yogyakarta, MINA – Indonesia's most active volcano erupted Friday, releasing plumes of ash into the sky and sending lava down its slopes accompanied by clouds of hot gas. There are no reports of casualties.
Hot ash clouds shot up 1,000 meters into the sky and avalanches of lava and hot gas descended the slopes of Mount Merapi at least six times since the morning while the mountain was shaking, said Hanik Humaida, head of the Yogyakarta Geological Disaster Technology Research and Development Center (BPPTKG), as quoted from VOA Indonesia.
A series of strong pyroclastic flows emerged from an actively developing lava dome at the top of the crater in the 2,968-meter-high volcano, Hanik said.
Pyroclastic flows are volcanic phenomena that include turbulent and mixed avalanches of hot lava rock, ash, and volcanic gases.
Sjee said the lava dome was growing rapidly, causing hot lava and gas clouds to flow down its slopes. Parts of the lava dome collapsed, sending rock and ash down the southwest slope of Merapi.
Ash covered several surrounding villages and towns, continued Hanik.
"Mount Merapi has seen increased volcanic activity in recent weeks and the ash plume extended about 1.8 kilometers to the southwest of the mountain before dawn," Hanik said.
Indonesia's Center for Volcanology and Geological Hazard Mitigation has yet to raise its alert status for Merapi, which has been at the second highest of four levels since the volcano began erupting last November.
Villagers on Merapi's fertile slopes have been advised to stay 5 kilometers from the crater rim and should be aware of the threat of lava, the agency said. (T/RE1)
Mi'raj News Agency (MINA)