MER-C Begins Indonesian Hospital Second Phase Construction in Gaza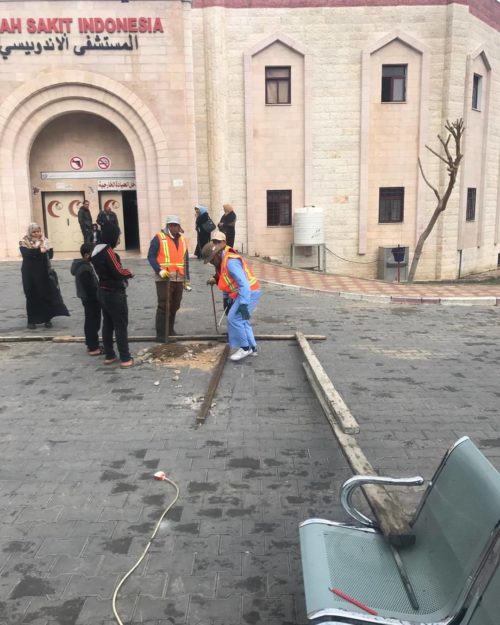 Gaza, MINA – A Non Gevernment Organization which concerns to medical affairs,  Medical Emegency Commitee (MER-C) on Thursday began the construction of the second phase of the Indonesia Hospital in Gaza, Palestine. Although on the last few days, it was still rained around the area, according to MER-C received by MINA .
The weather was cloudy, but volunteers were so enthusiastic to start the contruction of Indonesia Hospital. We started with breakfast together and briefing with the division of work according to their competencies.
The first step in the development process is to cover part of the Indonesia Hospital location as the entrance and storage of building materials.
In addition, the road in front of Wisma Rakyat Indonesia or MER-C Office in Gaza and as the homestay of volunteers was temporarily closed during the construction process and traffic flow can no longer circle the hospital, but must exit to the road in front of the door of the Emergency Installation (IGD).
In the last three days, since the arrival of construction volunteers from Indonesia to Gaza, the news about Indonesia Hospital has become a local trending topic, both in cyberspace and citizens.
Gazans were curious when the construction would begin. They said it was very spectacular because Indonesia Hospital provides the best health services in North Gaza.
Two days ago, the MER-C Team met with Dr. Yousif H. Abu El Reesh, Deputy Minister of Health in his office in Gaza. During the visit, the ministry presented data on the important position of Indonesian Hospital for Gazans, especially in conflict situations.
"We are very grateful and give appreciation to the Indonesian who have donated hospitals to the Palestinian people in Gaza," Yousif said.
On that occasion, the MER-C Presidium Ir. Faried Thalib told about the history of Indonesian Hospital from 2009 to 2016.
"Initially, the Indonesian Hospital has just built three layers of five-layer and for this project, measurable and directed discussion must precede the work of internal design. In the meantime, the process of working on the structure can be done as soon as possible because it only follows the structure below it, "Faried said.
The complete techniques will be discussed with Palestinian Ministry of Health staff including restrictions on work areas, material entry and exit, and other mechanisms to ensure that hospital health services are functioning. (T/Sj/P2)
Mi'raj News Agency (MINA)