Malaysia Deports 33 Indonesian Workers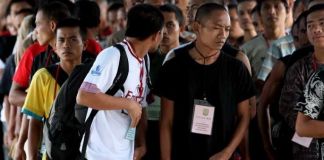 Indonesian workers deported from Malaysia.
Pontianak, West Kalimantan, 24 Jumadil Awwal 1438/21 February 2017 (MINA) – Malaysia has deported 33 Indonesian workers through the Entikong cross border post in Sanggau district of West Kalimantan.
Entikong police Chief Commissioner Kartyana was quoted by Antara as saying that the deportees arrived at Entikong on Monday morning with the Malaysian officers guard.
"The workers were taken aboard a minibus and a bus from Bekenu Miri immigration office, Malaysia, and escorted by officers of the Malaysian immigration and the Indonesian Consulate General," Kartyana stated.
The local police have examined the workers documents to detect possible human trafficking practices.
"If they are proven to be victims of human trafficking, we will track the recruitment agent and the network who smuggled them to Malaysia," he added.
Based on police examination, the deportees have faced various problems, including unfit jobs and wages, absence of passport and working permits, and illnesses.
"We have asked all the workers, including 31 men and 2 women, to sign a statement, saying that they would not return to Malaysia without any legal documents," he remarked.
The workers were from West Kalimantan (14), West Sulawesi (2), West Java (4), East Java (1), South Sulawesi (6), Banten (1), West Nusa Tenggara (2), East Nusa Tenggara (2), and West Sumatra (1).
"After the screening process, we transported them by bus to Pontianak social affairs office," he noted. (T/RS05/RS01)
Mi'raj Islamic News Agency (MINA)