LIPIA Distributes Thousands of Free Al- Quran at IIBF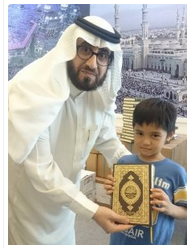 Jakarta, MIINA – The Indonesian Arab Institute of Sciences (LIPIA) has distributed thousands of free Al-Quran at the Indonesia International Book Fair (IIBF) 2017, Jakarta.
"In the last two days we have distributed 3500 mushafs for free to the visitors," said Budiyansyah, a member of the event committee, to Mi'raj News Agency (MINA) on Friday (8/9).
Budi said that not only the Qur'an,, the institution funded directly from the Saudi Arabian government also distributed 30 packs of religious books of various themes about the creed, sharia, the stories of the Companions of the Prophet, and so on.
Indonesia International Book Fair (IIBF) 2017 with the theme "It is a book affair", is taking place at Assembly Hall Jakarta Convention Center (JCC), Senayan for five days.
Chairman of the Indonesian Publishers Association (IKAPI), Rosidayati Rozalina, said IIBF is constantly improving itself by doing the transformation and is trying hard to accommodate the standard requirements as an international book fair, leaving no traditional character as a retail exhibition. In the current Internet era allows many things can be done online.
"IKAPI sees the need for the presence of a book fair, a book fair honoring authors and readers.  Here, they get the stage of honor to interact, exchange ideas and argue, as well as to show their existence as intellectuals that they do not enjoy on many other occasions, "Rosidayati said.
Meanwhile, Husni Syawie, Chairman of Committee IIBF 2017 explained at least there are 20 countries that exhibit their books in IIBF, among others the host country Indonesia, Philippines, Malaysia, Singapore, Thailand, Taiwan, China, Korea, Japan, Germany, France, Netherlands, Bosnia, India, Egypt, Saudi Arabia and Britain, and some buyer countries like Pakistan and Vietnam. (L/R04/RS5
Mi'raj News Agency (MINA)