KURDISH YPG COMMITS DOING WAR AGAINTS TERRORISM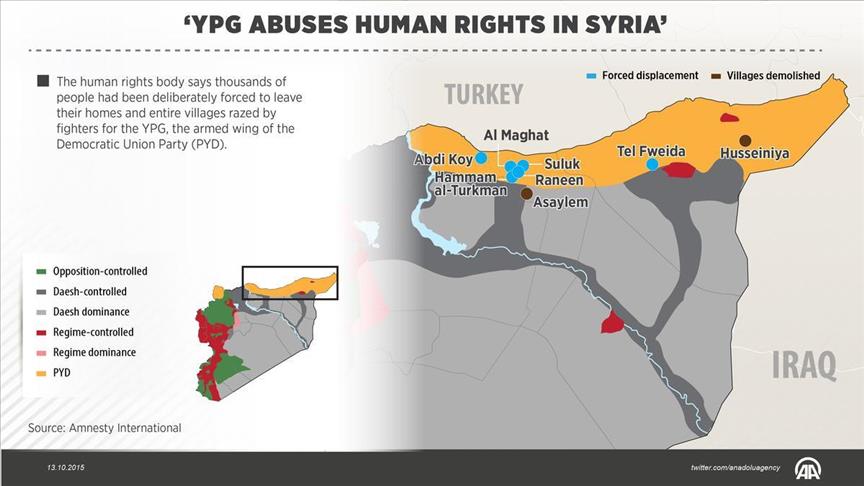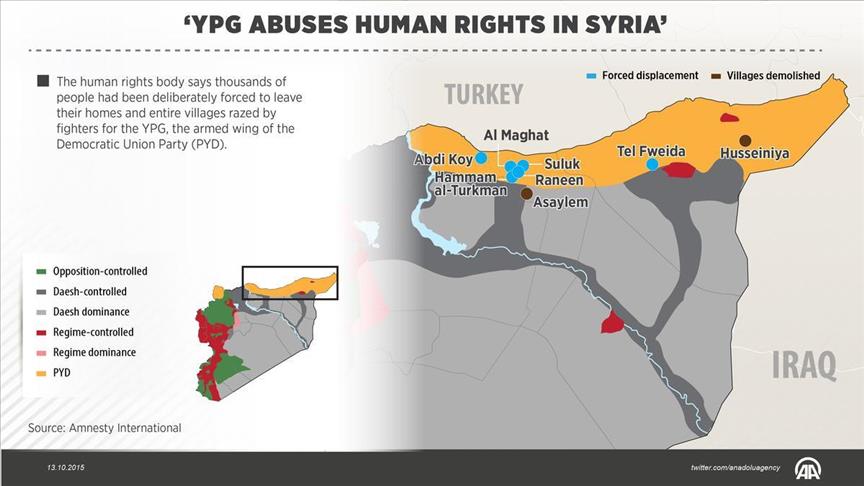 London, 1 Muharram 1437/14 October 2015 (MINA) – Kurdish YPG forces in northern Syria have committed war crimes during their battles with Daesh, according to an investigation by Amnesty International.
The human rights body said thousands of people had been deliberately forced to leave their homes and entire villages razed by fighters for the YPG, the armed wing of the Democratic Union Party (PYD), Anadolu Agency quoted by Mi'raj Islamic News Agency (MINA) as reporting.
Eyewitness accounts and satellite imagery revealed evidence of "alarming abuses" by the PYD-led autonomous administration in northern Syria, said senior Amnesty crisis advisor Lama Fakih.
"By deliberately demolishing civilian homes, in some cases razing and burning entire villages, displacing their inhabitants with no justifiable military grounds, the Autonomous Administration is abusing its authority and brazenly flouting international humanitarian law, in attacks that amount to war crimes," she said.
"In its fight against IS [Daesh], the Autonomous Administration appears to be trampling all over the rights of civilians who are caught in the middle. We saw extensive displacement and destruction that did not occur as a result of fighting."
The report, entitled "We had nowhere else to go", is based on interviews and research conducted by Amnesty workers in Syria and Turkey over the summer of 2015.
It quoted residents in villages south of the town of Suluk as saying YPG fighters accused them of supporting Daesh and threatened to shoot them if they did not leave.
One witness said: "They pulled us out of our homes and began burning the home… they brought the bulldozers… They demolished home after home until the entire village was destroyed."
The report also uses images from satellites to show the village of Husseiniya, in Tel Hamees, had been reduced from 225 buildings to 14 in the year from June 2014.
The YPG is a key ground ally of the U.S.-led coalition which is conducting airstrikes against Daesh targets in Syria, but some residents reported the airstrikes were used to threaten them.
"They told us we had to leave or they would tell the US coalition that we were terrorists and their planes would hit us and our families," one resident, Safwan, told Amnesty.
YPG spokesman Redur Xelil confirmed some residents had been forced to leave their homes "for their own security".
The report quotes him as saying: "With regret… in war the person that is harmed first and foremost is the civilian. We know it. But there are some situations where there is no other option. The families are on the frontline."
Fakih said the United States and its partners should not "turn a blind-eye to such abuses".
"They must take a public stand condemning forced displacement and unlawful demolitions and ensure their military assistance is not contributing to violations of international humanitarian law," she said. (T/P010/R03)
Mi'raj Islamic News Agency (MINA)