KERRY REMAINS 'HOPEFUL' IN IRAN NUCLEAR TALKS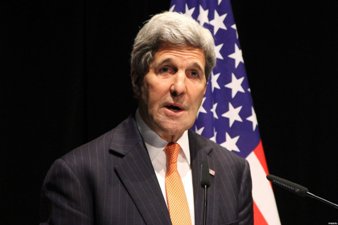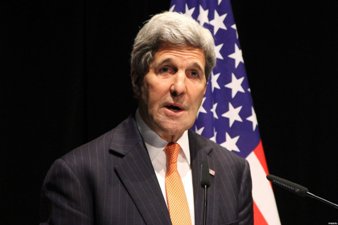 Washington, 26 Ramadan 1436/13 July 2015 (MINA) – The U.S. Secretary of State, John Kerry, has said he remained hopeful about the result of the ongoing nuclear talks between Iran and the world powers group, P5+1, in the Austrian capital of Vienna, the Iranian Republic News Agency (IRNA) said Sunday.
Both sides are trying hard to strike a final deal on Iran's nuclear program after extending the June 30 deadline twice. The U.S. secretary said he believed negotiations were coming closer to an end.
"We had a very good meeting. Positive. I think we're getting to some real decisions…we have a few tough things to do," Kerry was quoted as saying on Sunday. Middle East Monitor (Memo) reports as quoted by Mi'raj Islamic News Agency (MINA).
Meanwhile, France's Foreign Minister Laurent Fabius said Sunday that he hoped "this is the last phase of the marathon talks".
"You know the line which France took, it is a line of firm constructiveness and I hope it will help now to rapidly have a satisfactory result," Fabius said, according to the Russian news agency, Sputnik.
Fabius is expected to have a meeting with the International Atomic Energy Agency (IAEA) Director-General Yukiya Amano in Vienna later in the afternoon, IRNA added.
While the P5+1 group wants Iran to open its military sites and nuclear facilities to IAEA inspections, Iran perceives such measures as violations of its sovereign rights and state secrets.
Another hurdle in the negotiations is the time and scope of the sanctions removal, and lifting the arms embargo on Iran.
IRNA reported that the U.S. Under Secretary of State for Political Affairs, Wendy Sherman, and EU Deputy Foreign Policy Chief, Helga Schmidt, held meetings with Iranian deputy foreign ministers on Sunday.
Russian Foreign Minister Sergei Lavrov is reported to have arrived in Vienna, while Chinese Foreign Minister Wang Yi is expected to join the talks on Sunday. (T/P002/R03)
Mi'raj Islamic News Agency (MINA)