Jakarta E-Prix 2023 Becomes a Momentum for Reducing Emissions, Global Warming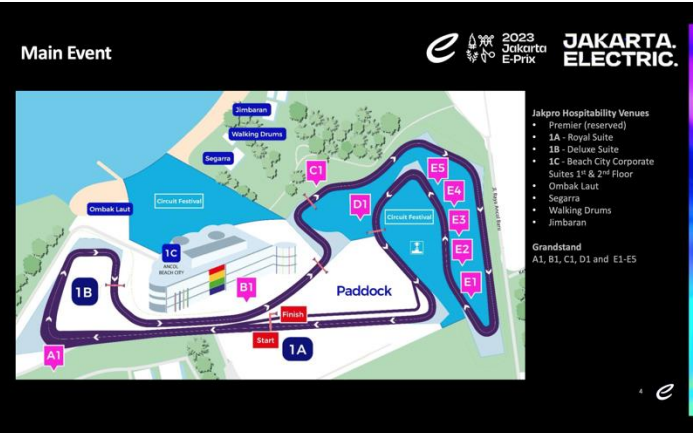 Jakarta, MINA – Sustainability Director of Formula E Operations (FEO) Julia Palle, said, the Jakarta E-Prix 2023 which will soon be held on 3-4 June will not only present electric car racing, but also has the aim of reducing global warming for the sake of the earth's sustainability.
"Racing and sustainability has become the mission of Formula E," said Julia, according to a written statement by PT Jakarta Propertindo (Perseroda) (Jakpro) received by MIN on Friday.
He said, Formula E is committed to reducing carbon emissions which have an impact on future lives, as well as making Formula E the sport of the future.
In addition, every Formula E racing event always pays attention to waste management.
"Every race, we collect and calculate how much waste will be collected, and how much emission will be produced," said Julia in the Jakarta E-Prix 2023 Talk Show entitled Sustainable Race for Sustainable Future on Wednesday.
Then, she also expressed his admiration for Indonesia. According to Julia, Indonesia is an economically large country in Southeast Asia.
"So, there needs to be an integrated perspective on innovation, technology and the environment," said Julia. Therefore, Formula E presents sportaiment which provides solutions for a quality life in the future.
"We are committed to sticking to our core sustainability goals of mitigating the impact of climate change and accelerating human progress for all, whether it's focusing on children, local communities, gender diversity, environmental sustainability, or cutting-edge technological developments that will change the future. the EV market," she said.
On the same occasion, Ahmad Safrudin, Executive Director of the Committee for the Elimination of Leaded Gasoline emphasized the importance of waste management in every event that takes place in Indonesia.
Because, according to him, waste management is the behavior of managing waste so as not to produce environmental problems.
Safrudin said that each individual must have responsibility for the waste they own.
"For example, each person must have a personal trash bag to store their trash to take home," said Safrudin.
Thus, zero waste can be realized. Safrudin hopes that the implementation of waste management at the Jakarta E-Prix 2023 will have a domino effect on other events. Not only that, Formula E is also an effort towards clean and green behavior.
"This event (Jakarta E-Prix 2023) is a momentum for the community to take positive values ​​and apply them to everyday life," explained Safrudin.
Apart from the community, Safrudin also highlighted the role of the government. According to him, the Formula E event could be a momentum for the government to reform its waste management policy.
"Good waste management will reduce waste piles," concluded Safrudin. (T/RE1)
Mi'raj News Agency (MINA)