ZIONIST STRIKES GAZA, ONE DIES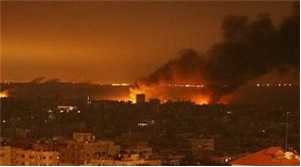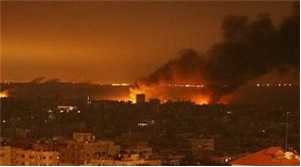 Gaza, 27 Sha'ban 1435/25 Juni, 2014 (MINA) – Israeli occupation air force attacked Gaza Strip on Tuesday night (24/6) local time. They targetted several areas of Islamic Jihad and al-Quds Brigades camps in Bayt Lahiya, northern Gaza, MINA's correspondent reported.
The Spokesman of alestinian Ministry of Health, Ashraf Al-Qadra said a young girl was killed and her three family members were injured in the attack.
Furthermore, Israeli air strikes also targetted Nushairot district, central Gaza . While in the west, Israeli aircraft, F16 attacked farm areas.
Israel occupation attacked farm area owned by residents of Gaza. In the South Gaza, the attack caused two Palestinian police injured.
According to MINA's observation at the location, there are several bomb landing not far from the location of Indonesian hospital. At least, five times the sound of the missiles wereheard in less than an hour. The sound of the Drone owned by Israel is still heard spinning in the sky of Gaza when the news is released.
Israeli attacks to the blockaded territory increased nowadas after the loss of  three Israeli settlers in West Bank. Israel accused Hamas of being the actor behind the loss of the three men. However, a spokesman for Hamas and its military wing, Al-Qassam Brigades claimed that they are not responsible for the loss of them who were later known as a member of occupation army.
Beside attacking Gaza, Israel also arrested many Hamas members and citizens in the West Bank. They also cracked every Palestinan homes even to the cemetery and waterways.
Samer Issawi, a former prisoner that did hunger strike and had just been released some time ago also re-arrested by  Israeli occupation army . The action reaped condemnation from many international activists in various social media. (L/Syt/Gz/P04)
Mi'raj Islamic News Agency (MINA)