Israel Pushing Palestinians from Jerusalem, Says Rights NGO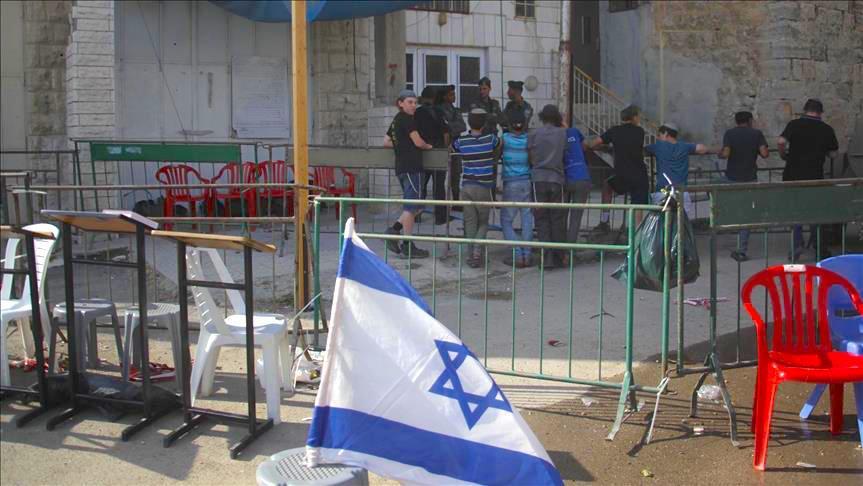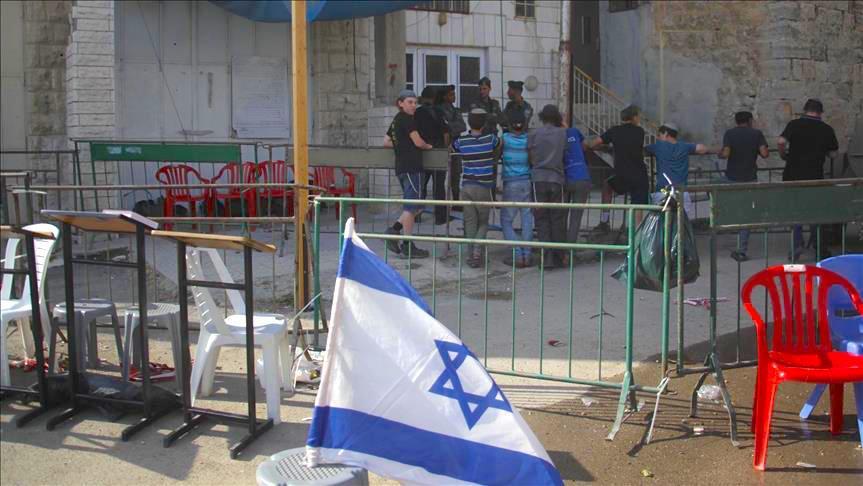 A house with an Israeli flag on it is seen in Hebron, West Bank on July 26, 2017. Abu Rajab family are dismissed from their house, which is located in Old Town region, by Israeli occupiers accompanied with Israeli forces, claiming that they are the owners of the house – AA photo.
Jerusalem, MINA – Israel is pushing Jerusalem's Palestinian residents to leave their homes through a policy of systematic transfer that violates international law, Human Rights Watch (HRW) was quoted by Anadolu Agency as saying Tuesday.
In a new report, the New York-based rights NGO said the frequent revocation of Palestinians' residency permits — in addition to home demolitions and restrictions on Palestinian construction in the city — had served to increase the number of illegally-built Jewish settlements in occupied East Jerusalem.
"Israel is restricting growth of the occupied Palestinian population," the report states. "This reality reflects the Israeli government's goal of maintaining a solid Jewish majority in the city."
It adds: "The [Israeli] residency system [in Jerusalem] imposes onerous requirements on Palestinians to maintain their status, with significant consequences for those who don't."
The report goes on to assert that, based on figures provided by Israel's Interior Ministry, "between the start of Israel's occupation of East Jerusalem in 1967 and the end of 2016, Israel revoked the status of at least 14,595 Palestinians from East Jerusalem".
Sarah Leah Whitson, HRW's Middle East director, is quoted in the report as saying that "Israel claims to treat Jerusalem as a unified city, but the reality is effectively one set of rules for Jews and another for Palestinians".
She adds: "Entrenched discrimination against Palestinians in Jerusalem, including residency policies that imperil their legal status, feeds the alienation of the city's residents."
Often forced to live like foreigners
According to Whitson, efforts by the Israeli authorities to ensure a Jewish demographic majority in Jerusalem mean the city's Palestinian residents are often forced to live like foreigners in their own homes.
"The status of Palestinians only remains secure so long as they do not exercise their right to travel abroad to study or work, move to the wrong neighborhood, or obtain status in another country," she is quoted as saying.
Israel first occupied the Palestinian West Bank, including East Jerusalem, during the 1967 Middle East War. It annexed the entire city in 1980, claiming it as the capital of the Jewish state — a move never recognized by the international community.
International law continues to view the West Bank and East Jerusalem as "occupied territories" and considers all Jewish settlement-building activity on the land as illegal.
Palestinians have long accused Israel of waging a campaign to "Judaize" the historic city with the aim of effacing its historical Arab and Islamic identity and ultimately driving out its Palestinian inhabitants. (T/RS5/RS1)
Mi'raj Islamic NewsAgency (MINA)