ISRAEL PM REJECTS 'DICTATES' AS FRANCE'S TOP DIPLOMAT VISITS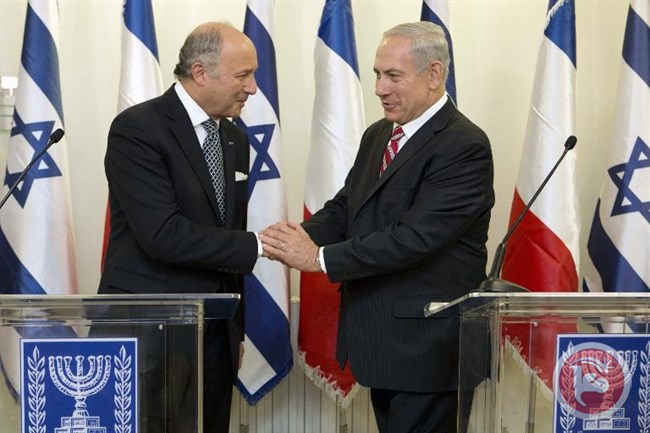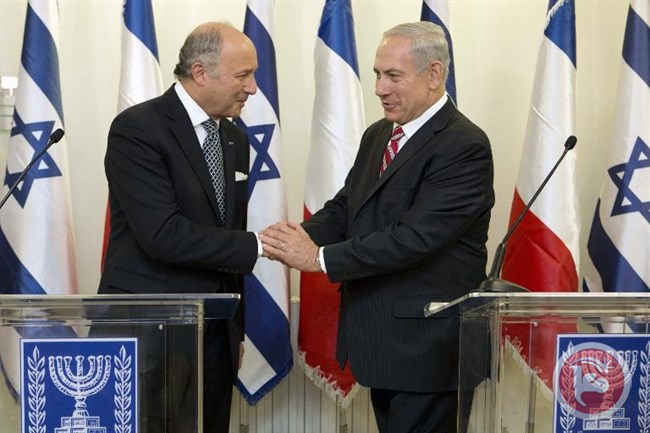 Israel, 5 Ramadhan 1436/21 June 2015 (MINA) – Israeli Prime Minister Benjamin Netanyahu on Sunday rejected "international dictates" ahead of a visit by France's top diplomat, with Paris advocating a UN resolution laying out parameters for peace talks.
"The only way to reach an agreement is through bilateral negotiations, and we will forcibly reject any attempts to force upon us international dictates," Netanyahu said at the weekly cabinet meeting. Ma'an News Agency quoted by Mi'raj Islamic News Agency (MINA) as reporting.
French Foreign Minister Laurent Fabius will hold separate talks with Palestinian and Israeli leaders later on Sunday during a tour of the region.
On Saturday, Fabius told reporters in Cairo that he would be urging the resumption of Middle East peace talks but warned that continued Israeli settlement building in the occupied West Bank is damaging chances of a final deal.
"We need Israel's security to be totally assured, that is essential, but at the same time we need the rights of the Palestinians to be recognized because without justice there can be no peace," Fabius said.
"From this point of view, when settlement building continues, (the prospect of) a two-state solution recedes."
Without mentioning France, Netanyahu said that the proposals put forth on creating a separate, independent Palestinian state had neglected to address vital Israeli security concerns.
"In the international proposals that have been suggested to us — which they are actually trying to force upon us — there is no real reference to Israel's security needs or our other national interests," Netanyahu said in comments quoted by his office.
"They are simply trying to push us into indefensible borders while completely ignoring what will happen on the other side of the border."
In March, shortly before the Israeli election, Netanyahu said that he would not allow a Palestinian state if reelected, in comments he has since spoken of in ambiguous terms.
He also vowed he would never allow the Palestinians to establish a capital in occupied East Jerusalem and pledged to build "thousands" of settler homes, which are illegal under international law.
In recent days, Netanyahu has been increasingly defiant against the international community, referring to a UN call on Israel to protect Palestinian children as "a black day for the UN," and comparing the international boycott movement to Nazi Germany.
Peace talks between Israel and the Palestinians have been comatose since a major US push for a final deal ended in failure in April 2014, after Israel refused to cease settlement building and refused to release veteran Palestinian prisoners. (T/P010/R04)
Mi'raj Islamic News Agency (MINA)