ISRAEL FUELS TERRORISM IN REGION: SYRIA'S MIQDAD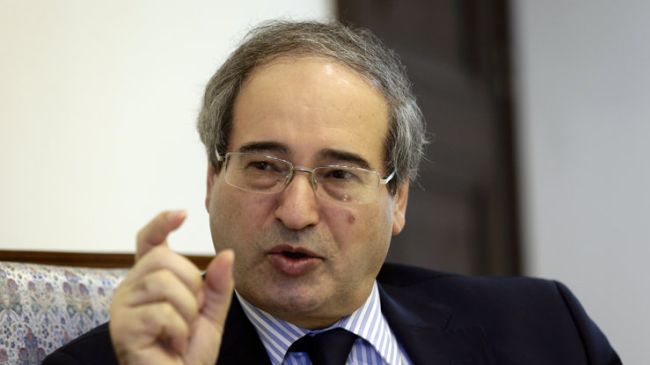 Damascus, 24 Syawwal 1435 /20 August 2014 (MINA) – Syrian Deputy Foreign Minister Faisal Miqdad has blamed Israel for escalating violence and fueling terrorism in the region.
Miqdad made the remark during a lecture at the Syrian press network Dar al-Baath in the capital, Damascus, on Tuesday, saying that Israel spreads terrorism in Syria and in the whole region.
He further noted that the Tel Aviv regime benefits from fueling violence and terrorism in the region and its role in what is happening in Syria and the region must not be overlooked, Press TV  quoted by Mi'raj Islamic News Agency (MINA) as reporting, Wesnesday.
"The West worked to destroy the region and spread terrorism and fear, employing armed terrorist organizations and giving them direct and unlimited support in service of the goals of Zionism,"
the Syrian deputy foreign minister said, adding the ISIL Takfiri group spreads Wahabi mentality and antagonizes other religions and creeds.
He welcomed a resolution by the United Nations Security Council (UNSC) against the supporters of the ISIL Takfiri militants and al-Nusra Front militants.
"Everyone who provided support in any form to any group that bore arms against the Syrian state is considered a terrorist, and the international community must prosecute them and hold them accountable," he said.
The British-drafted document, which was unanimously approved on Friday, backed sanctions on individuals recruiting, financing, supplying weapons, or fighting for the ISIL and groups affiliated with it.
The Security Council also made six people associated with ISIL or the Syria-based al-Nusra Front subject to an international travel ban, asset freeze and arms embargo. An ISIL spokesman is among the six.
Miqdad also warned that no country in the world is immune from the sweeping wave of terrorism.
"The United States, Britain, and France are responsible for the escalation of terrorism in the region, and they must stop supporting it because it poses a threat to them just as much as it threatens all countries of the region," he said.
He expressed Syria's willingness to work with any country willing to fight terrorism, except for the countries that sponsor it.
Miqdad, however, stressed that any unilateral action not within the framework of international laws would be intervention in Syria's internal affairs.
Syria has been gripped by deadly violence since 2011. According to some sources, more than 170,000 people have been killed and millions displaced due to the violence fueled by Western-backed militants.
The Western powers and their regional allies – especially Qatar, Saudi Arabia and, Turkey – are reportedly supporting the militants operating inside Syria. (T/P012/E01)
Mi'raj Islamic News Agency (MINA)