Indonesian Muslim Workers Donate RP 62 Million for Rohingyas Through MER-C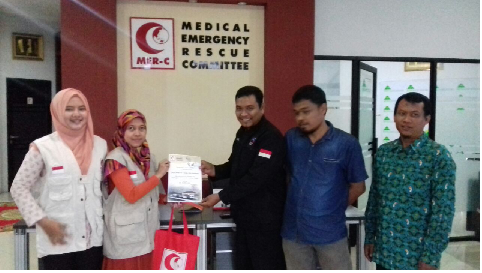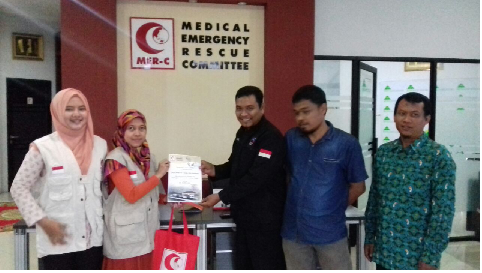 Jakarta, MINA – The Indonesian Muslim Workers Union (PPMI) has donated fund for the construction of the Indonesian Hospital in Rakhine, Myanmar through the Humanitarian agency Medical Emergency Rescue Committee (MER-C).
The donation is worth Rp. 62 million. "This humanitarian aid is hopefully to bring the maximum benefits for Rohingya refugees who are now facing humanitarian crisis," the PPMI Chairman Helmi Abir told MINA on Wednesday (10/18) at MER-C head office, Jakarta.
"As a Muslim, it is our duty to help each other. Indeed we can not immediately go to Rohingya, therefore we are entrusted it to MER-C to channel this mandate"said Helmi.
"MER-C has proven to run the humanitarian mandate well. It can be witnessed by the establishment of the Indonesian Hospital in Gaza which was inaugurated in 2015 ago, "said Helmi convincingly.
Meanwhile, MER-C has program to build Indonesian hospital in Myanmar. Right now, the construction of the building is entering the second stage after land dumping and fence construction was completed.
The hospital construction is run by MER-C synergizing with Indonesian Red Cross (PMI) in Muaung Bwe Village, Mrauk.U City, Rakhine State, a conflict-prone area of Muslims and Buddhists.
Meanwhile, Dr. Tonggo Meaty Fransisca as Chairman of MER-C Humanitarian Team for Myanmar said, "In 2012 MER-C sent the team to Rakhine when a conflict between Buddhists and Rohingya started. We see the Rohingya ethnic refugees totally stateless and they are in need of help. With the starting point from the condition, MER-C created a program to build hospitals in the region, "she added.
He explained the purpose of MER-C to build the hospital in the region to provide humanitarian assistance regardless of tribe, religion, and race as an effort to unite all society in that place. (L/P2/RS5)
Mi'raj Islamic News Agency (MINA)