Indonesian Hospitals in Myanmar Flooded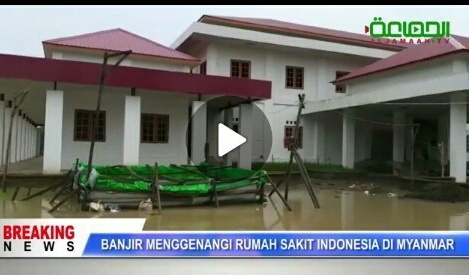 Indonesian Hospital in Rakhine State (photo: Screenshot)
Rakhine, MINA – Indonesian Hospital in Myanmar's Rakhine State which was initiated by the Medical Emergency Rescue Committee (MER-C) flooded.
It was conveyed by Nur Ikhwan Abadi, Instructor for the Construction of Indonesian Hospital in Myanmar to JamaahTv in Bogor on Friday, July 19.
"Indonesian Hospital in Myanmar is currently not in a conducive situation, but the procurement of building materials for hospital completion stage and work on the ground continues," he said.
He said that for now, the work had reached 93 percent, in the process of completion and provision of operational equipment hospitals were planned for construction to be completed by October 2019.
According to him, in addition to security issues, volunteers face opposition to bad weather and heavy rain that continues to occur at Rakhine State.
"The hospital building was flooded until the knee-high floods of adults," he said.
Previously, MER-C Operational Manager Rima Manzanaris said that support and assistance from Indonesian Embassy in Yangoon were very helpful, starting from the management of volunteer visa permits to the process of building hospitals that had now entered finishing stage.
She explained that the construction of Indonesian Hospital both in Rakhine or Gaza is one of MER-C's humanitarian diplomacy in the world.
"MER-C does not only play a role in emergencies but how we can provide long-term assistance and benefit conflict communities or war victims in the region," he said.
Especially, for Indonesian hospitals in Myanmar, Rima said MER-C wanted to make the building as a place to meet Muslim and Buddhist communities there.
The construction of Indonesian Hospital in Myanmar is the result of cooperation between MER-C, Indonesian Red Cross (PMI), as well as Indonesian Buddhists namely Walubi and the Indonesian people. (TL/Sj/P2)
Mi'raj News Agency (MINA)