Indonesian Government Holds Ramadan Isbat on Wednesday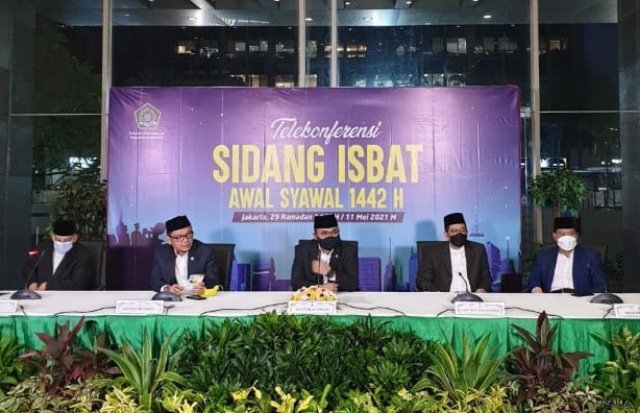 Jakarta, MINA – Indonesian Ministry of Religion will hold an isbat (determination) meeting for 1 Ramadan 1444 H on Wednesday.
The Director General of Islamic Community Guidance at the Ministry of Religion, Kamaruddin Amin, explained that the isbat meeting will consider preliminary information based on the results of astronomical calculations (hisab) and field confirmation through the new moon monitoring (rukyatul) mechanism.
According to hisab, Kamaruddin said, all systems agreed that the ijtima ahead of Ramadan would fall on Wednesday, March 22, 2023 or coincide with 29 Shaban 1443 H at around 00.23 WIB.
Kamaruddin added that according to reckoning the position of the new moon in Indonesia during the isbat meeting at the beginning of Ramadan 1444 H, had met the new criteria set by MABIMS (Ministry of Religion of Brunei, Indonesia, Malaysia and Singapore).
"On rukyat day, 29 Shaban 1444 H, the height of the new moon in all parts of Indonesia is above the horizon, ranging from 6 degrees 46.2 minutes to 8 degrees 43.2 minutes, with an elongation angle between 7.93 degrees to 9. 54 degrees," Kamaruddin explained in Jakarta, Tuesday.
"This means that according to reckoning, on that day the position of the first new moon in Shawwal in Indonesia was included in the new MABIMS criteria," Kamaruddin added.
According to the new MABIMS criteria, imkanur rukyat is considered eligible if the hilal position reaches a height of 3 degrees with an elongation angle of 6.4 degrees.
So when is the start of Ramadan 1444 H, Kamaruddin said he was still waiting for the results of the rukyatul (monitoring) of the new moon. "The Ministry of Religion has determined 124 rukyatul hilal points throughout Indonesia. The hilal rukyatul will be carried out by the Regional Office of the Ministry of Religion and the Regency/City Ministry of Religion, in collaboration with the Religious Courts and Islamic Organizations and other agencies, in the local area," explained Adib.
"The results of the rukyatul hilal that were carried out will then be reported as material for consideration of the Early Ramadan 1444 H Assembly," he continued.
The isbat meeting at the beginning of Ramadan 1444 H will be chaired by Minister of Religion Yaqut Cholil Qoumas and attended by a number of Ambassadors of Friendly Countries, Commission VIII DPR RI, Supreme Court, Indonesian Ulema Council (MUI), Meteorology, Climatology and Geophysics Agency (BMKG), Geospatial Information Agency (BIG) ), Bosscha Bandung Institute of Technology (ITB), Planetarium, Falak Experts from Islamic Mass Organizations, Related institutions and agencies, Members of the Ministry of Religion's Hisab Rukyat Team, and, Leaders of Islamic Community Organizations and Islamic Boarding Schools. (R/R5)
Mi'raj News Agency (MINA)