HAMAS FIGHTERS KILL AT LEAST 91 ISRAELI OCCUPATION SOLDIERS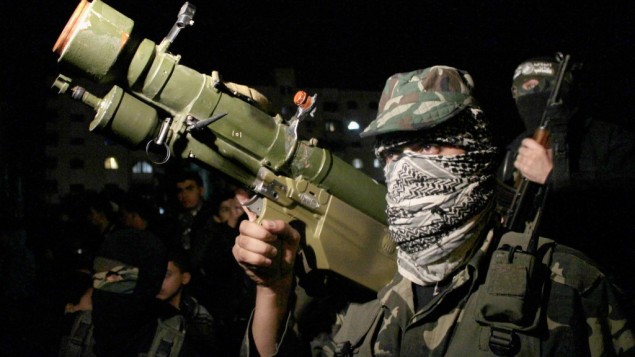 Gaza City, 1 Syawwal 1435/28 July 2014 (MINA) – Al-Qassam Brigades, which is the military wing of Hamas, says Palestinian resistance fighters have killed at least 91 Israeli soldiers over the past 20 days.
Palestinian fighters say 91 Israeli forces have been killed in the ongoing offensive against the besieged Palestinian enclave, Mi'raj Islamic News Agency (MINA)'s correspondent reported from Gaza.
Based on Israeli media reports, at least 142 soldiers are in hospital, one of them in critical condition.
Meanwhile the Israeli army says 43 soldiers have died since July 8, according to Press TV.
Also on Sunday, at least one Israeli soldier was killed by a shell fired from the Gaza Strip.
This is seen as the heaviest loss of life for the Israeli military in years
Israel has kept tight reins on media outlets with regards to the exact number of Israeli soldiers captured or killed during its ongoing assault on the besieged coastal enclave.
The rising death toll of Israeli forces during the ongoing assault on Gaza Strip has prompted growing opposition to the war among the Israeli public.
Thousands of Israelis have rallied against Tel Aviv's war on the Gaza Strip.
Demonstrators from left-wing and anti-war activists gathered in Tel Aviv's Rabin Square despite police calls urging them not to attend the rally.
They carried banners reading "End the Occupation" and "Stop the Massacre in Gaza". They also chanted slogans against Israeli officials for what they called dragging Israel into repeated wars and military actions.
At least four demonstrators were arrested after they tried to block a nearby street.
More than 1060 Palestinians have so far been killed and over 6000 wounded since the Israeli military first launched its onslaught on the Palestinian enclave on July 8. ((L/K01/Syt/E01)
Mi'raj Islamic News Agency (MINA)