HAMAS ASKS UNRWA, LEBANON TO END NAHR AL-BARED'S CRISIS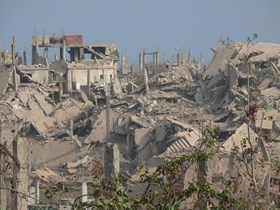 Beirut, 3 Sha'ban 1436/21 May 2015 (MINA) – Islamic Resistance Movement, Hamas, slammed the performances of UNRWA and Lebanon in regards to the ongoing crisis of Nahr al-Bared refugee camp for eight years.
In a statement, Hamas said "after eight years of the destruction of al-Bared's refugee camp and the displacement of its inhabitants, it seems that the reconstruction has come to a dead end due to procrastination and corruption," The Palestinian Information Center (PIC) quoted by Mi'raj Isalmic News Agency (MINA) as reporting.
"The refugees have so far been waiting for achieving the promises of temporary displacement and soon return. They, however, have not returned or received any compensation," the statement added.
Hamas pointed out that the reconstruction rate has not exceeded 35% whereas UNRWA decreased the aid and rent allowances last year.
Hamas also asked Lebanon to abide by its promises of reconstruction and refugee return to the camp and called for cancelling the security measures in the camp.
It also called on Lebanon to collect the money from donor countries and to pressure the UNRWA to hasten the reconstruction as well as to open investigation in wasting of money and to examine the reasons of reconstruction delay.
Hamas also asked UNRWA to tighten the measures to halt waste of the money allocated for camp reconstruction and called the international community to shoulder its responsibility in this regard.
Nahr al-Bared is a camp for Palestinian refugees in northern Lebanon. It includes 30,000 Palestinians. It was established by the Red Cross Committees in 1949 in order to provide shelter to Palestinian refugees.
In 2007, the camp became a conflict zone between Lebanese armed forces and Fatah al-Islam armed group which raided the camp. The clashes led to the migration of the camp's inhabitants, total destruction of the camp and killing of so many people of both sides.(T/P008/R03)
Mi'raj Islamic News Agency (MINA)