GLOBAL ACTION DAY AGAINST DRONES IN GAZA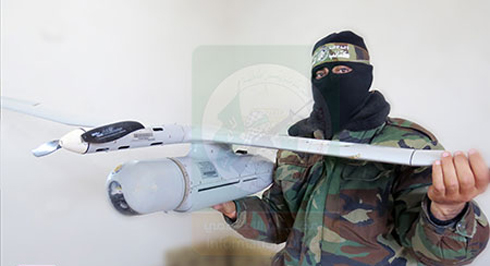 Gaza, 12 Dhulhijja 1435/6 October 2014 (MINA) – A Palestinian local association in Gaza Strip declared the launching on Sunday evening of the Global Action Day against the Use of Drones for Surveillance and Killing.
Large numbers of children participated in the event organized by Afaq association in Nuseirat refugee camp while holding toy airplanes and banners written in English and Arabic calling for putting an end to the use of Israeli drones against Gazan civilians, Palestinian Information Center quoted by Mi'raj Islamic News Agency (MINA) as reporting.
During the event, the children flew kites for peace and love declaring their total rejection to the use of "Death Jet Fighters".
Gazans have repeatedly complained of the excessive Israeli use of drones for surveillance and assassination in the besieged Strip.
Drones are normally used for surveillance; however, the Israeli army upgraded and armed the drones so as to carry out air raids against resistance and civilian targets in Gaza.
Although after recent ceasefire between Israel and Palestinian resistance in Gaza Strip, Israeli drones have been flying over Gaza skies.
Drones are the public face of counter-insurgency. Mechanical, unmanned, distant, they fly above battlefields from Pakistan to Yemen, their unblinking electronic eyes streaming video back to uniformed pilots secure on military bases elsewhere.
The United States is the best-known drone operator in the world, but it's hardly the only country that uses them. The Israel Occupation Forces are using drones over Gaza as part of their latest aggression called "Protective Edge."
The Aviationist reports that, for the first time, Israel is deploying a modified Elbit Systems Hermes 450, with a new antenna on top and carrying under wing pods, over Gaza. The under wing pods could be fuel tanks for longer flights, though some facts showed that they instead contain either light missiles or guns.
It wouldn't be the first time Israel used an armed drone. During the 2006 Lebanon War, Israeli drone footage showed Hellfire missiles, like those used by American drones.(T/R04/R03)
Mi'raj Islamic News Agency (MINA)