GERMANS WELCOME MIGRANTS, SLAM XENOPHOBIA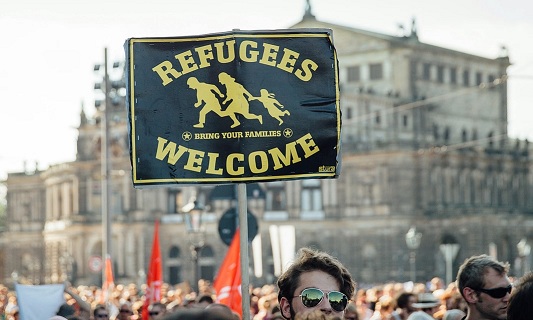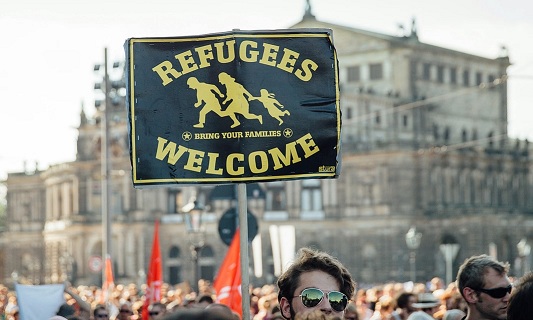 Dresden, 16 Dzulqa'dah 1436/31 August 2015 (MINA) – Rejecting neo-Nazis protests, thousands of Germans took to the streets of the German city of Dresden, deemed a stronghold for anti-immigration group, to send an out-loud message against xenophobia.
Holding a huge banner that reads "Prevent the pogroms of tomorrow today", the crowds marched peacefully through the eastern city under the watch of police in riot gear, On Islam quoted by Mi'raj Islamic News Agency (MINA) as reporting.
"Say it loud, say it clear, refugees are welcome here," they chanted.
Organized by Anti-Nazi Alliance, the protest drew some 5000 people, though this figure has been contested by police forces who said that only 1000 people took part in the protest.
Dresden is the stronghold of the anti-Islam Pegida movement.
Since October, the group "Patriotic Europeans Against the Islamization of the Occident" or PEGIDA has been holding weekly marches against Muslims and immigrants.
Pegida drew a record 25,000 marchers to its 12th rally earlier in January in Dresden where its flag-waving members held a minute's silence for the victims of the Charlie Hebdo attacks in Paris last week.
Foreign Minister Frank-Walter Steinmeier warned of the damage that Pegida's "xenophobic and racist slogans and placards" were having on Germany's image abroad.
One slogan, lying press, is seen as harking back to the Nazi era. It was used by Adolf Hitler in 1922 and later by his propaganda minister Joseph Goebbels.
The anti-Islam protests have been condemned by Ulrich Grillo, the president of the German Federation of Industry, for undermining the country's interests and values.
Offering support for the Muslim community, German Chancellor Angela Merkel attended a vigil for tolerance in Berlin two weeks ago, in a clear message against rising anti-Islam, far-right group Pegida.
Late in December,2014, Merkel urged people in her New Year's speech to help refugees fleeing conflicts, telling them to turn their backs to the "racist", "full of hatred" anti-Muslim movement.
The city, the capital of the eastern state of Saxony, has suffered a series of ugly anti-migrant protests over the past months.
"We're here because what is happening in Germany, particularly in Saxony, is unbearable," said Eva Mendl, a teacher who was among the demonstrators.
"Hating refugees, who live here because they can no longer live at home, because they have been through a war that shouldn't happen in a rich country," she added.
The protest followed an arson attack last week in which a planned refugee center near Berlin was set in flames, reflecting increasing xenophobia as the country braces to host a record 800,000 asylum seekers.
Germany is expecting to receive 800,000 asylum-seekers this year, a record number and four times more than in 2014.
The sudden surge in people coming from war zones such as Syria as well as countries that are not at war like Albania and Kosovo has left authorities struggling to cope.
It has also exposed anti-migrant sentiment, particularly in eastern Germany, which still lags behind the western part of the country in terms of jobs and opportunities 25 years after reunification. (T/P006/R06)
Mi'raj Islamic News Agency (MINA)