Gaza Commemorates 6th Anniversary of the Freedom Flotilla Attack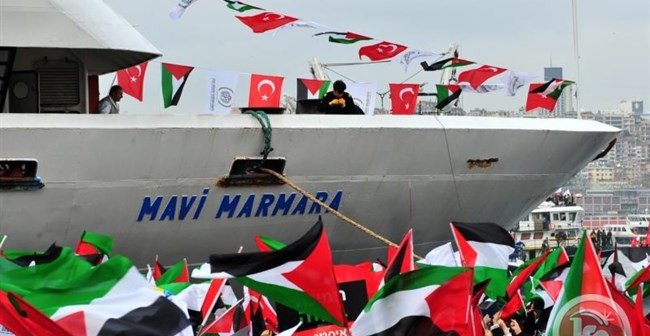 Gaza City, 24 Sya'ban 1437/01 June 2016 (MINA) – A commemoration ceremony was held in Gaza City on Tuesday morning to mark the sixth anniversary of the Israeli attack on the Turkish ship Mavi Marmara, which led the first Freedom Flotilla aimed at lifting the Israeli-imposed siege on the Gaza Strip.
The attack, which killed nine people, sparked international outcry as Israeli naval forces attacked six ships part of the Freedom Flotilla attempting to access the besieged Gaza Strip to deliver international aid on May 31, 2010, Mi'raj Islamic News Agency (MINA) reported, quoting Ma'an.
Although the five other ships surrendered peacefully, Israeli soldiers stormed on board the Mavi Marmara, prompting activists to defend themselves with bats, knives and metal pipes, before Israeli soldiers opened fire on the group of activists.
"We came here to the Gaza Strip to support the besieged Palestinian people. When Palestine is freed, nations all over the world will celebrate," Turkish Humanitarian Relief Foundation director Muhammad Kaya said in a speech on Tuesday.
"The Palestinian people in Gaza do not need food or drink, but rather they need freedom, which will come by ending the siege and getting rid of the occupation," Kaya added.
Sheikh Khader Habib, a senior leader of the Islamic Jihad party, addressed the crowd at the commemoration: "The Israeli occupation must be put to justice for the ugly crimes committed against Mavi Marmara and against the Palestinian people."
"Mavi Marmara martyrs died in defense of the Al-Aqsa Mosque and fighting for the freedom of Palestine," Habib added.
Dozens of young men created a human chain on the beach during the commemoration event, as they carried posters with the names of the nine activists who were killed, and chanted slogans denouncing Israel's attack.
A representative of the Miles of Smiles movement, Ali al-Nazli, emphasized his hope that the commemoration would mark a new wave of solidarity activities with the besieged Gaza Strip, and called on people around the world to dedicate efforts to support Gaza and end the near-decade long Israeli blockade on the Palestinian territory.
No Israelis were ever charged for the killings on the Mavi Marmara ship, despite a case being filed at the International Criminal Court (ICC) charging Israeli officials with war crimes. (T/R07/R01)
Mi'raj Islamic News Agency (MINA)