Coconut Becomes the Pulse of Life in Indragiri Hilir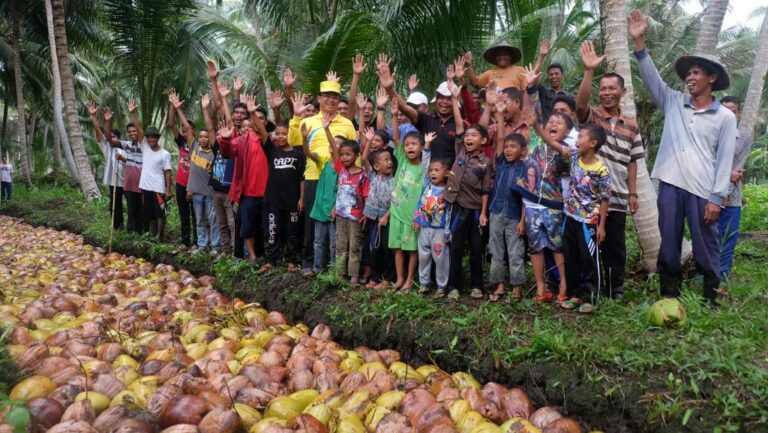 Indragiri Hilir (Inhil) Regency, Riau, is a land of "waved coconut palms". This nickname was given because as far as the eye can see this area is overgrown with coconut trees.
In a press statement from Central PWI received by MINA on Wednesday, Indragiri Hilir Regent H.M. Wardan said that more than 60 percent of the regency's land area is coconut plantations.
"It's not strange that Indragiri Hilir Regency is nicknamed 'The Land of a Thousand Ditches, the Coconut Expanse of the World'," he said.
For Wardan, the extent of the people's coconut plantations in Inhil is a gift that gives him strong motivation to keep trying so that this potential is utilized to the fullest. In fact, he feels proud that Inhil is famous for his coconut.
One of Wardan's breakthroughs was holding the International Coconut Festival (FKI) in Indragiri Hilir in 2017. This district is trusted as the first area to host FKI.
Long History
The history of coconut in Indragiri Hilir is long. Coconut has been known since the days of the Dutch East Indies. This district is known as a leading coconut producer, even today.
In 1918, Mufti Indragiri Tuan Guru Syekh Abdurrahman Shiddiq with his family and students made ditches to regulate the circulation of sea tides and ebb. We know it now as a canalization system.
The ditches or canals function to supply the water needs of the coconut plants so they don't run out of water during the dry season and don't get submerged during high tide or rain. Canals are also used as a means of transporting coconuts.
Since then, the canalization system has been passed down from generation to generation by the community. Yields in coconut plantations began to increase.
Until now, for the people of Indragiri Hilir, coconut is not only the prima donna of the community's economic resource, but more than that. Coconut has become the identity and identity of Indragiri Hilir Regency, which has earned it the nickname "The Land of a Thousand Ditches, the Expanse of the World's Coconut".
Coconut is the lifeblood of the people of Indragiri Hilir. If there is a problem with the coconut, they are immediately concerned. They do live from and depend on coconuts.
"Once around 50 coconut farmers came to see me. They came crying. They say they can no longer send their children to school. Can no longer try because their coconut plantation is damaged by beetles. I am very sad to hear this story," said Wardan.
"I will do everything so that the coconut farmers in Indragiri Hilir will prosper, because I used to be a farmer's son who is now a regent," he promised and that he implements and embodies in a number of regional regulations that can guarantee coconut sovereignty.
For example, the 2019 Indragiri Hilir Regent Decree regarding the establishment of Malay clothing and coconut steps every Friday for civil servants in the Indragiri Hilir Regency Government.
If the life of the people of Indragiri Hilir Regency is very dependent on coconut trees, it is natural. The coconut tree is touted as the "tree of life".
It is said so, because from the roots to the tops of the coconut tree leaves everything can be used to meet the needs of everyday life. Coconut leaves, for example, can be used for roofing houses, rhombus skin, coconut leaves, and broom sticks.
From the fruit, people get coconut water which is very useful as a substitute for body ions. Besides the young coconut ice, the old fruit can be used as coconut oil, which has many benefits.
"There are a lot of coconuts produced. Apart from coconut milk, there is also VCO, coco fiber, nata de coco, Kara, Dydor Coco, carbon, briquettes, and sugar," explained Regent Wardan who is proud to be called "coconut regent".
Apart from being used for charcoal, coconut shells can also be used for various crafts. Meanwhile, the fibers can be used for cocofit and coco fiber.
Coconut trunks can be used as building materials. The quality is good. Coconut trunks can also be used for household furniture and crafts. The root turns out to be efficacious as a medicine and also for crafts and food coloring.
Coconut-Based Cultural Arts
Wardan Regent also encouraged the birth of coconut-based cultural arts. As previously mentioned, one example is the issuance of the 2019 Indragiri Hilir Regent Decree concerning the establishment of Malay clothing and coconut steps every Friday for ASNs within the Indragiri Hilir Regency Government. Tanjak is a traditional Malay headband that is pointed upwards.
Coconut has also inspired art to the people of Indragiri Hilir.
For example, there is a typical head climb for the district. Then there are cultural activities such as coconut dances, plain flour processions, and making batik with coconut motifs typical of Indragiri Hilir.
Apart from holding the Indonesian Coconut Festival (FKI), another event related to coconut from Inhil which has gone global is the creation of two MURI records, namely serving 500 types of food made from coconut and the MURI record for drinking 10,000 young coconuts simultaneously.
So, it is no exaggeration if composer Ismail Marzuki praised Indonesia as a land of waving palm trees in his song "Rayuan Pulau Kelapa" as proof of a prosperous land. It was also proven that under the leadership of the Regent H.M. Wardan the name of Indragiri Hilir Regency has gone global because of coconut. (T/RE1)
Mi'raj News Agency (MINA)