CANADA MUSLIMS CAMPAIGN AGAINST EXTREMISTS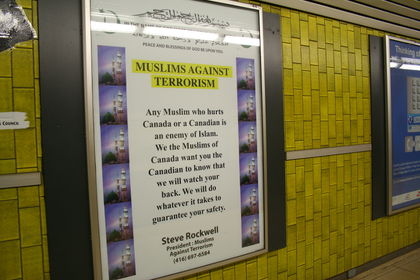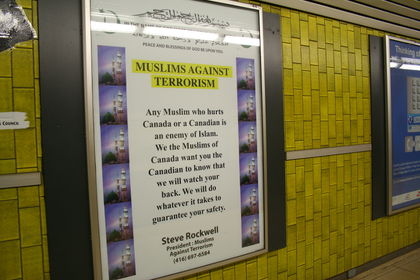 Canada, 20 Jumadil Awwal 1436/11 March 2015 (MINA) – A new ad campaign has been launched by an Islamic group in Canada, vowing support to their country against radicals and offering the true image of their religion.
"Any Muslim who hurts Canada or a Canadian is an enemy of Islam," states the poster posted on the wall of the southbound platform of the Dundas subway station, Toronto Sun reported. OnIslam quoted by Mi'raj Islamic News Agency (MINA) as reporting.
"We, the Muslims of Canada, want you the Canadian to know that we will watch your back. We will do whatever it takes to guarantee your safety."
The new ad campaign was launched by Muslims Against Terrorism group which represents an outspoken voice in Toronto's Muslim community.
Led by the group's president, Steve Rockwell, the campaign was launched to counteract negative stories in the press about Islam.
"I think Muslims in this country should not sit back and let the twisted view of Islam fly," said Rockwell, a local imam who appears regularly on radio and TV debating religion and the state of Islam.
"From all the violence perpetrated by ISIS and the Taliban and Boko Haram, these are sensationalized by the media … and with the few Muslims that are responding to them positively and joining (groups like ISIS), it gives a twisted view of Islam, and that is not what Islam is all about," he added, using another acronym to refer to the so-called Islamic State (ISIL).
Being a Muslim revert himself, Rockwell stressed that the majority of Muslims in Canada are peaceful people.
"If we see or hear of somebody going to join ISIS or commit and act of terrorism, we'll call (the authorities)," he added.
"We're here to protect. It is no pleasure to the Muslim community when a Canadian is hurt."
Putting a second sign at another TTC station, Rockwell added there has been positive response and expects more signs to go up in the future.
Muslims make around 2.8 percent of Canada's 32.8 million population, and Islam is the number one non-Christian faith in the country.
A recent survey showed that the overwhelming majority of Muslims are proud to be Canadian, and that they are more educated than the general population.
The dual attacks in Ottawa and Saint-Jean-sur-Richelieu, a few months ago, coupled with Paris shooting spree have led to unprecedented levels of anti-Muslim attacks in Canada where several mosques were vandalized.
Last week, an Islamophobia monitoring group has warned that the biased media coverage fosters divisions and racism in the French speaking province of Quebec, especially following Paris attacks that victimized Muslims cross Europe.
The Collectif Québécois Contre l'Islamophobie, has documented more than 123 Islamophobic attacks since Charlie Hebdo attacks earlier this month. (T/P007/P3)
Mi'raj Islamic News Agency (MINA)