CALIFORNIA MUSLIMS BRACE FOR RAMADAN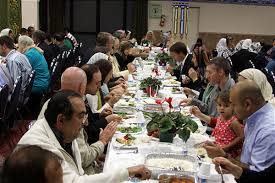 California, 1 Ramadan1436/June 18, 2015 (MINA) — Muslims in the US are preparing to observe the holy fasting month of Ramadan, which starts on Thursday (18/6) with a religious flavor.
"When you go without food and drink for entire day, even for one day, you realize what you have given up, and you realize what you actually have that you had taken for granted," Sheikh Mustafa Umar, of a southern California mosque said, On Islam quoted by Mi'raj Islamic News Agency (MINA) as reporting.
Sheikh Umar is one of Southern California Muslims who are bracing for fasting, reflections and communal gatherings that mark the holy month.
At southern California's multi-cultural mosque, the Islamic Society of Orange County, preparations are going on to host thousands of Muslims on the first Saturday of Ramadan.
A huge canopy is being installed in the courtyard of the mosque where a large celebration is to be held.
The heavy schedule of the mosque will focus on mid-day prayers along with evening celebrations after the fast is broken.
"Every day here at the mosque, we actually break our fast together at sunset, so that is around 8:00 pm," Duaa Alwan, the president of the Islamic Society of Orange County said.
"There are free meals, free dinners here.  A lot of the larger community are invited to that, a lot of our friends from different faiths, our neighbors."
The United States is home to a minority of between six to eight million Muslims.
A US survey has also revealed that the majority of Americans know very little about Muslims and their faith.
Reflecting the diversity of Southern California Muslim community, people will share meals from different culture during Saturday's celebration.
"You have Pakistani food, you have Indian food, you have Middle Eastern, you have Italian food, you have Mexican food, and it really reflects the diversity that our community shares," said Alwan.
For many mosque members, Ramadan is a time to seek forgiveness and have a new start.
"Kind of like a New Year's for us, where all the things that we are supposed to do, you start going strong and doing them, and the things that we are doing, we continue them and do it as a community and a group," mosque member Nawaz Ahmed said.
On his part, Sheikh Umar said that the holy month is a chance to renew old acquaintances and strengthen community bonds.
"So it is kind of a mixture of worshiping God and also having fun and having a good time, and realizing and appreciating the blessings that you have in this life," said Umar.
Ramadan is the holiest month in Islamic calendar.
In Ramadan, adult Muslims, save the sick and those traveling, abstain from food, drink, smoking and sex between dawn and sunset.
Muslims dedicate their time during the holy month to be closer to Allah through prayers, self-restraint and good deeds.
It is customary for Muslims to spend part of the days during Ramadan studying the Noble Qur'an.
Many men perform i`tikaf (spiritual retreat), spending the last 10 days of the month exclusively in the mosque. (T/P006/R04)
Mi'raj Islamic News Agency (MINA)