BNPB Wins Geospatial Asia 2017 Award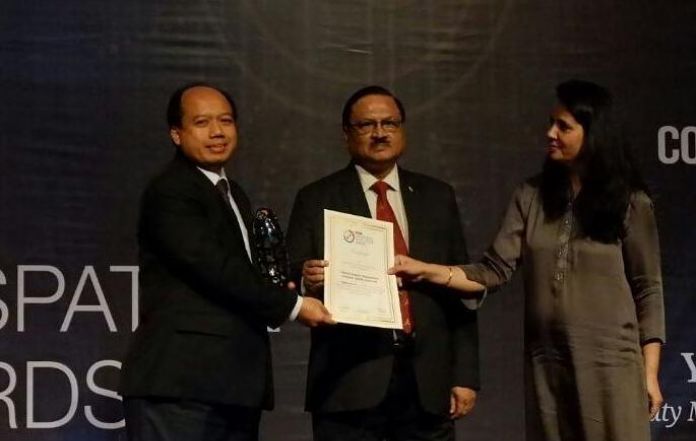 BNPB wins Geospatial Excellence Award. – BNPB photo.
Jakarta, MINA – The National Disaster Management Agency (BNPB) has won Asia Geospatial Excellence Award 2017 from the Geosmart Asia and Geo Intelligence Asia Pacific Forum in Malaysia for its achievement in developing PetaBencana.id as geospatial innovation to include public participation.
"The award was bestowed upon the BNPB for its PetaBencana.id under geospatial technology category. This annual prestigious event was attended by more than 1,200 participants from 25 countries and 300 organizations in the Asia-pacific region," Antara News reported, quoting Head of the BNPB Center for Data, Information and Public Relations Sutopo Purwo Nugroho in a press statement released on Thursday.
With the award, the BNPB received another world recognition of its innovation and creativity in mitigating disasters, particularly in the Asia-Pacific region, he said.
The partnership and collaboration between the BNPB and various parties in mitigating disasters yielded various products which received international recognition that Indonesia has made progress and inspired other countries, he said.
PetaBencana.id is a location-based platform which enables users to actively report floods on a real time basis by using social media and short-message application, he said.
The BNPB developed PetaBencana.id in association with Massachusetts Institute of Technology (MIT), USAID, HOT, PDC and the Jakarta Regional Disaster Manageent Agency  (BPBD).
The platform can quickly collect data and information on floods. Social media plays an extraordinary role in disseminating disaster-related information.
According to Sutopo, PetaBencana.id is able to collect, sort and visualize tweets from social media into maps.
Citing an example, he said when a flood hit Jakarta on February 21, 2017 thousands of residents reported it to the agency and more than 599 thousand people accessed PetaBencana.id in less than 12 hours. Hence, the impact of the flood could be mapped quickly.
"The public actively get involved (in mitigation efforts) when a disaster happens. As a result, it is easier to handle the flood particularly when it comes to making a decision, extending assistance, mobilizing personnel and so on. This has inspired other countries to adopt social media technology to mitigate disasters," he said. (T/RS5/RS1)
Mi'raj Islamic News Agency (MINA)