BNPB: International Assistance Must Be Coordinated With the Ministry of Foreign Affairs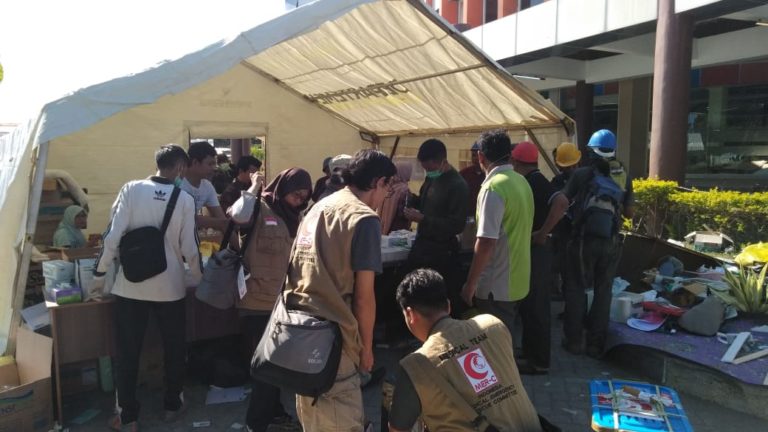 Jakarta, MINA –  Two earthquakes in a week that hit Lombok, West Nusa Tenggara (NTB) and Bali caused considerable losses, both lives and material.
The Natonal Agency for Disaster Management (BNPB) spokesman Sutopo Purwo Nugroho said that Indonesia is still capable materially to rehabilitate and reconstruct the damage caused by the earthquakes.
He was also called on the international communities, if they wanted to send aid to the affected area of ​​the earthquake in Lombok it had to be coordinated with the Indonesian Ministry of Foreign Affairs (Kemenlu) and BNPB.
"I don't know either. Suddenly a lot of people went there. "Their aid must be coordinated first with the Ministry of Foreign Affairs and BNPB, there is a mechanism that must be followed," Sutopo said at a press conference at the BNPB Office, here, Wednesday (8/8).
In accordance with the Regulation of the Head of BNPB Number 22 of 2010 concerning Guidelines for the Participation of International Institutions and Non-Government Foreign Institutions, international institutions may enter Indonesia to provide assistance if the Indonesian government announces requesting assistance.
"What I know is that President Jokowi has yet to announce the request for international assistance," he added.
Sutopo also appealed to the relevant ministries or institutions to participate in disciplining international institutions that will and have carried out disaster management activities in Lombok
"BNPB calls on all sidesrs from local NGOs or community organizations to not invite their international partners to handle international assistance in Lombok. For those who have already been there, we hold that we cannot go to the field, "he said.
Meanwhile, Head of the Legal and Collaboration Division of BNPB, Ruki said, for international NGOs that are affiliated and have offices in Indonesia, they do not need special permits.
"They include the categorization of organizations that are in Indonesia, the term is in house organisations, so that is permissible. What is not permissible from outside directly entering Indonesia. Also, it is not permissible for national organizations that invite international partners," he said. (L/ R04/RS5)
Mi'raj News Agency (MINA)