Aqsa Working Group Encourages OIC summit Generates Real Step on Palestinian Conflict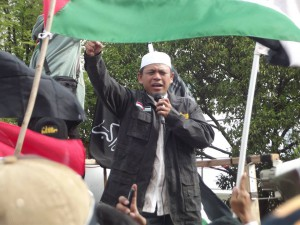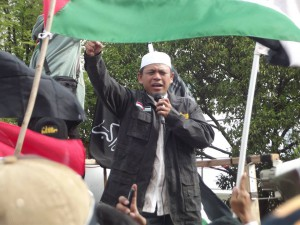 Jakarta, 27 Jumada Awwal 1437/6 March 2016 (MINA) – Chairman of Indonesia's NGO Aqsa Working Group (AWG), Sudarmaji Agus said that it encourages the fifth extra ordinary OIC Summit produce concrete steps to realize the liberation of Al-Quds and Palestine.
the institution that embodies the efforts of the Muslims in their efforts to liberate Al-Aqsa Mosque,
He expects OIC Extraordinary Summit did not stop the normative rhetoric than just a meeting, but rather as concrete efforts towards the ideals of the OIC since it was first established.
According to Agus, the ideals of freedom and liberation of the Palestinian Al-Quds would be realized if the Islamic world to unite and initiate concrete steps in the world.
"This summit should lead to a settlement of the Palestinian issue as a priority the issue of the Islamic world and to provide protection and access to Palestinian Muslims in Al-Quds," said Agus kepara Mi'raj Islamic News Agency (MINA), Sunday (6/3).
He welcomed the initiative of the government to offer to host the OIC Extraordinary Summit of the 5th at 6 to 7 March 2016. Initially, the conference will be held in Morocco, but as a matter of Morocco stated ketidaksiapannya. Extraordinary OIC Summit 2016 is specifically raised the issue of Palestine and Al-Quds.
"In the midst of the economic situation decreased, Jokowi can mempesiapkan OIC summit to mature. OIC summit LB-5 is a real form of the full support and solidarity with Indonesia and the OIC on the issue of Palestine and Al-Quds, "he said.
For Indonesia, support for the Palestinians is an integral part of the mandate of the 1945 Constitution to abolish the occupation and implementing public order based on freedom, lasting peace and social justice.
Aqsa Working Group (AWG) is a humanitarian NGO which set up to accommodate and manage the efforts of Moslems for the liberation of Al-Aqsa Mosque.
AWG was established by the decisions generated by the Al-Aqsa International Conference in Jakarta, on 20 Sha'ban 1429/ August 21, 2008.(L / R03 / R04)
Mi'raj Islamic News Agency (MINA)