AMBASSADOR: THE WEST HAVE TO ADDRESS ISRAELI RADICALISM IN PALESTINE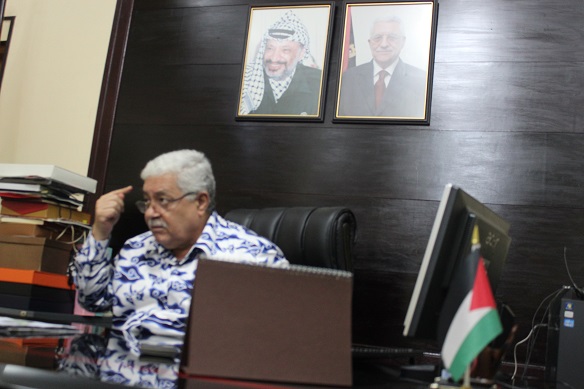 Jakarta, 6 Dzulhijja 1435/30 September 2014 (MINA) –  The Palestinian ambassador to Indonesia, Fariz Mehdawi said the Western countries have to address Israeli radicalism and terrorism in Palestine beside Islamic State (IS) in Iraq.
"Nowadays, many people in the Western countries are very much concerned with the beheading case done by IS in Iraq. The western countries should also pay attention to the radicalism and terrorism done by Israel in the occupied territories. The Israelis have been killing hundreds of innocent children in Palestine," Palestinian Ambassador to Indonesia Fariz Mehdawi told Mi'raj Islamic News Agency (MINA) in an exclusive interview in Jakarta, Tuesday.
The ambassador also stated that international community have to pay attention to what is happening in Palestine. Israel does a lot of crimes against humanity and international community watch it through media," he stated.
"Palestinians are now suffering social, economical and political injustices. But Israel said they did it just because they are doing the so called self defense. The reason is so poor," Mehdawi added.
The Israeli military says it has opened criminal investigations into two high-profile cases involving Palestinian civilian casualties in this year's Gaza bar although International observers aren't convinced that the probe will lead to Justice.
The two cases cited on Wednesday are the first to result in criminal investigations. Seven other cases were closed, and three more are awaiting a decision, reported.
By investigating the killing of Palestinian children on a Gaza beach and the shelling of a United Nations school, the decision seems to be an attempt to try and fend off international investigations into its conduct.
More than 2,100 Palestinians, three-quarters of whom were civilians, were killed during the July-August conflict, according to Palestinian and UN estimates.
Palestinians have been threatening to seek access to the International Criminal Court, a venue usually reserved for charging those from countries without reputable judiciaries of their own.
Meanwhile, Palestinian President Mahmoud Abbas, in a speech to the U.N. General Assembly in New York, demanded an end to Israeli occupation, telling the United Nations that the time for Palestinian independence had come and calling on the world community to support his bid for membership in the UN and for statehood, describing it as support for truth.
Abbas also vowed to seek war crimes prosecutions against Israel over what he called the 50-day "war of genocide" in Gaza that killed 2,140 Palestinians, mostly civilians, and left the enclave in ruins. "There is an occupation that must end now. There is a people that must be freed immediately," Abbas said in an address to the U.N. General Assembly in New York. "The hour of independence of the state of Palestine has arrived." Abbas, however, did not set a deadline for fast-tracking to Palestinian statehood, after aides suggested they were eyeing 2017 as a possible date. (L/R03/R04/P3)
Mi'raj Islamic News Agency (MINA)