ACT Distributes Breakfast for Students In Gaza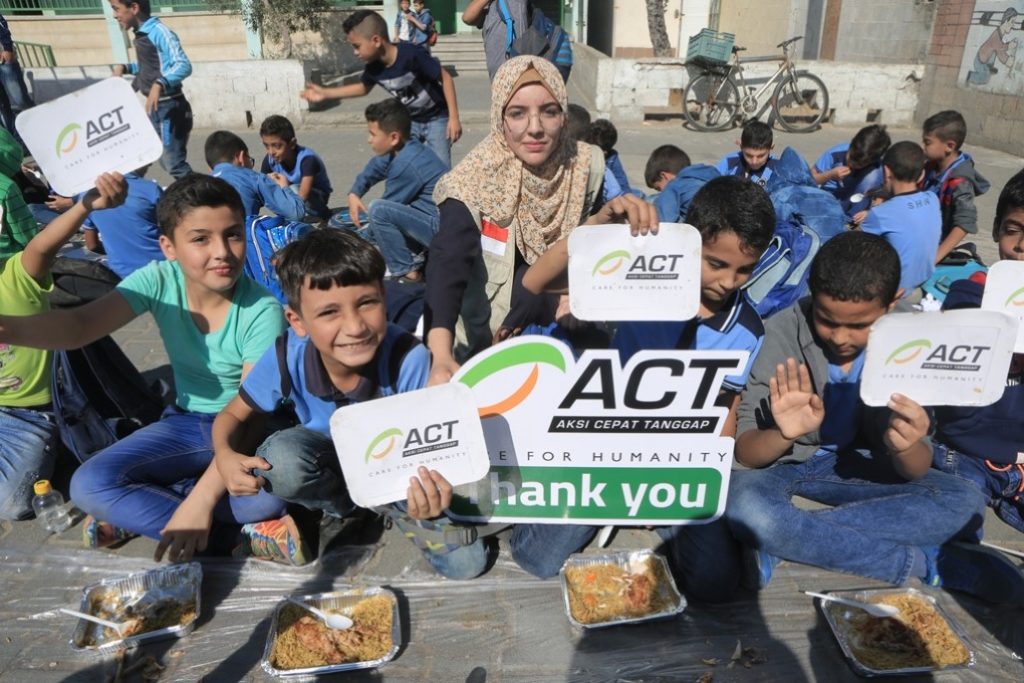 Gaza, MINA – Palestinian students smile when volunteers of Aksi Cepat Tanggap (ACT) agency in Gaza enter their classroom. A joint meal was held in the morning, a pile of ready-to-eat food cooked from the Indonesian Public Kitchen in Gaza was prepared.
Breakfast was served warm and fresh. Briyani rice covered in chicken and vegetables added to the energy of students to study on Thursday morning, October 24.
The students also sat neatly in the schoolyard. They sat in a row and some crossed. The food was eaten together. Basmalah was said before the rice was bribed, as quoted from a press release of Global Humanity Response (GHR) – ACT team on Sunday.
According to Andi Noor Faradiba from the ACT (GHR) team, the distribution of ready-to-eat food from the Indonesian Public Kitchen is one of the programs that ACT is continuing to help Palestinians, especially children.
"The Indonesian Public Kitchen this time distributed breakfast for school children. Most students in Palestinian schools skip breakfast before leaving school, "explained Faradiba.
Faradiba explained ACT partners and volunteers in Gaza often reported a decline in the quality of thinking of students in Gaza. Happily, children in Gaza never eat breakfast and also rarely bring lunch to school.
Family financial limitations and the prolonged Israeli blockade are the biggest factors.
"In the end, many children are malnourished and stunted. Therefore, we hope that this program can make children welcome the new school year with enthusiasm, "she said.
The distribution of ready-to-eat food reaches 5,140 children in Gaza. Faradiba explained that the program had been running since last October 16 and aimed at schools.
The breakfast distribution program for Palestinian children is also carried out in seven other schools in the Gaza strip.
Through the Generous Indonesia Movement, ACT will continue to endeavor and invite benefactors to improve the lives of Palestinians, both in Gaza and Jerusalem. (T/Sj)
Mi'raj News Agency (MINA)