Abbas, Hamas Slam Israel for 'Execution' of Palestinian Siblings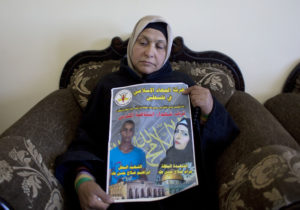 Bethlehem, 21 Rajab 1437/29 April 2016 (MINA) – The Palestinian leadership across the political spectrum on Thursday issued official condemnations of the "execution" of two Palestinian siblings shot dead by Israeli forces in Ramallah after an alleged stab attack the day prior.
Palestinian President Mahmoud Abbas' cabinet denounced the silence of the international community after Israeli officers shot Maram Salih Hassan Abu Ismail and her younger brother Ibrahim at a military checkpoint, government spokesman Yousef Mahmoud said in a press release.
"There is nothing that can justify the crime that has been committed against a pregnant mother and her brother," Yousef said, referring to the siblings, adding that the Israeli government has a "mafia-like mentality."
Hamas leader Abdul Rahman Shadid for his part called on "intifada activists to exact a price from occupation forces for the crime in Qalandiya, and to deter the occupation from shedding more Palestinian blood."
Twenty-four-year-old Maram and her 16-year-old brother Ibrahim were both shot dead after Israeli police said Maram threw a knife at an officer stationed at Qalandiya military checkpoint near Ramallah, Ma'an was quoted by Mi'raj Islamic News Agency (MINA) as reporting.
Witnesses to the incident told Ma'an the siblings were not carrying knives, and that the Israeli officer who first opened fire on Maram was stationed some 20 meters away behind a concrete block, arguing the two posed no threat at the time that they were shot down.
Israeli officers reportedly unloaded at least 15 rounds into Maram's body during the incident, according to witnesses.
Maram and Ibrahim were the first Palestinians to be shot dead by Israeli forces since Ramzi Aziz al-Qasrawi and Abd al-Fattah Yusri al-Sharif were killed in Hebron after allegedly stabbing a soldier in late March.
Israel's excessive use of force against Palestinians has brought allegations from local and international NGOs, senior UN officials and foreign leaders, and prominent US congressmen that Israeli forces regularly carry out unlawful killings.
Thursday's condemnations by both Abbas' cabinet and Hamas come despite a marked absence of Palestinian political leadership from a wave of unrest that spread across the occupied Palestinian territory in October.
The violence has left over 200 Palestinians dead, the majority of whom were shot dead while allegedly carrying out small-scale attacks on Israeli military forces without support or prior organization from any party.
The void in leadership amid the recent spate of violence has raised frustrations among the Palestinian public towards the Fatah-dominated Palestinian Authority in particular, who many see as facilitating Israel's occupation through security coordination. (T/R07/R01)
Mi'raj Islamic News Agency (MINA)