6,000 Takjil Packages Distributed at Great Mosque of Sheikh Zayed Solo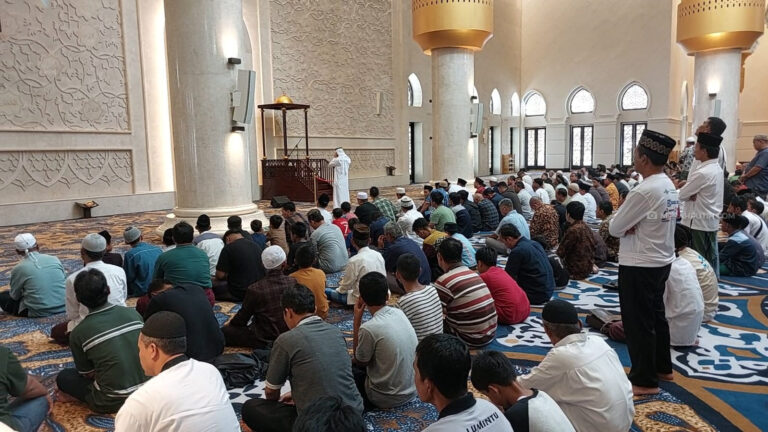 Solo, MINA – As many as 6,000 takjil packages will be distributed at the Sheikh Zayed Grand Mosque Solo, Central Javan on Thursday.
Thousands of takjil packages are distributed free of charge, before the time of breaking the fast or before the Maghrib call to prayer resounds at the Sheikh Zayed Grand Mosque, Solo.
Mosque Management Representative, Imron Supomo said, there were a number of takjil distribution points or tents provided in the outer area of ​​the Sheikh Zayed Solo Grand Mosque. Among them the south for the congregation of women and the north for the congregation of men.
"The first is breaking the fast, providing 6,000 food menus in the form of rice boxes that have been prepared and will also be divided into two distribution points," said Imron.
The mechanism for distributing takjil packages is that pilgrims are welcome to enter the existing tents. Then, thousands of takjil packages will be distributed that have been provided by the committee.
The committee advises the congregation to eat their food outside the mosque. This is because the capacity of the tents will not be sufficient for the number of pilgrims who come.
The takjil package menu varies every day, namely Indonesian and UAE food menus.
"The capacity of dadi's tents is 500 to 1,500 pilgrims. So, later those who can't enter the tent will be able to eat beside the mosque like that," he explained.
"So we have provided a cleaning team because of the cooperation with the volunteers who are here and also from the government," he said.
Monitoring at around 16.30 WIB on Thursday, the administrators had prepared takjil packages in the tent. In addition, a team of volunteers and joint personnel totaling 110 personnel have also been on standby at the takjil distribution location. (T/RE1)
Mi'raj News Agency (MINA)