5 Indonesian Universities Planning to Carry out Sustainable Peace Education in Collaboration with International NGO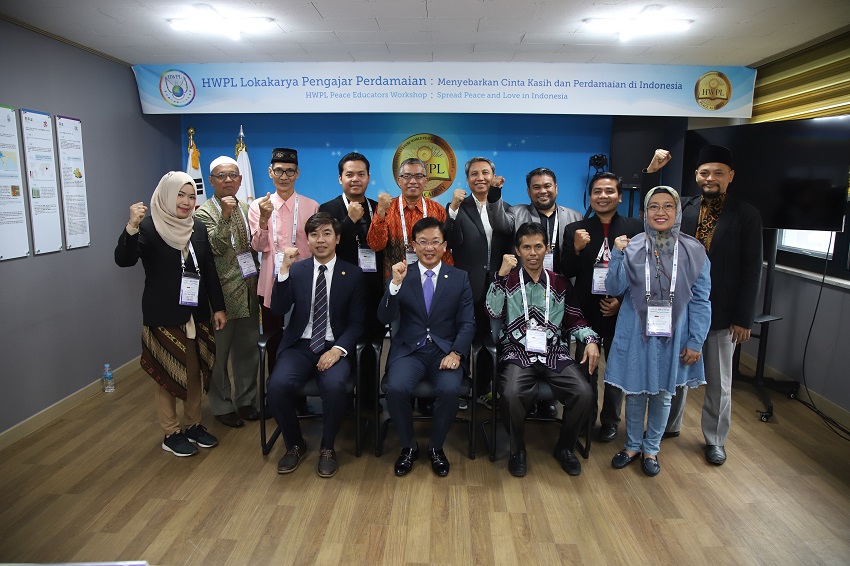 Seoul, MINA – Professors and educators of 5 Indonesian universities have visited South Korea to participate in 'Peace Educators Workshop' with the theme of 'Spread love and peace in Indonesia' hosted by the World Peace, Restoration of Light(HWPL), an international peace NGO,under UN ECOSOC and UN DPI.
On May 4th, 11 visiting officials from 5 universities; Universitas Islam Negeri(UIN) Syarif Hidayatullah Jakarta, UIN Alauddin Makassar, UIN Sumatra Utara, UIN Sultan Maulana Hasanuddin Banten, IAI As'adiyah Sengkang discussed the practical approaches to apply the peace education materials of HWPL to the regular course of the university.
Prof., Dr. Nur Hidayah, Vice Dean of UIN Alauddin Makassar, stated why the peace materials offered by HWPL is appropriate for peace education by saying, "I have found that HWPL peace education is universally accepted by all and it is a non-discriminatory text that transcends race, religion, culture, and language. It will be a tool for all people to keep order and peace in society."
On further peace activities as well as peace education, Director of Center for Peace Studies in UIN Sumatra Utara, Prof., Dr. Zainul Fuad, said, "I will hold Peace Workshop and Peace Walk Event to raise awareness of the value of peace and support for resolving disputes. I plan to use the HWPL training materials at that time. I will not only stop at the event but will also practice activities that will make students aware of the value of peace in cooperation with HWPL.
Participating university officials and professors concluded that they would start test operation of a peace education course that can be acquired as a credit and promised to cooperate in developing peace education materials through continuous exchange with HWPL.
HWPL has built cooperation with 138 educational institutions in 9 countries including India, Israel, Indonesia and the Philippines by designating them as "HWPL Peace Academies" to cultivate students with the spirit of peace.
With its peace initiative proposed by the Declaration of Peace and Cessation of War (DPCW), HWPL has advocated the development of a culture of peace through education, youth and women empowerment and media freedom.(L/R01/RS5)
Mi'raj News Agency (MINA)