250 Palestinians Travel from Gaza to Al-Aqsa Mosque for Friday prayers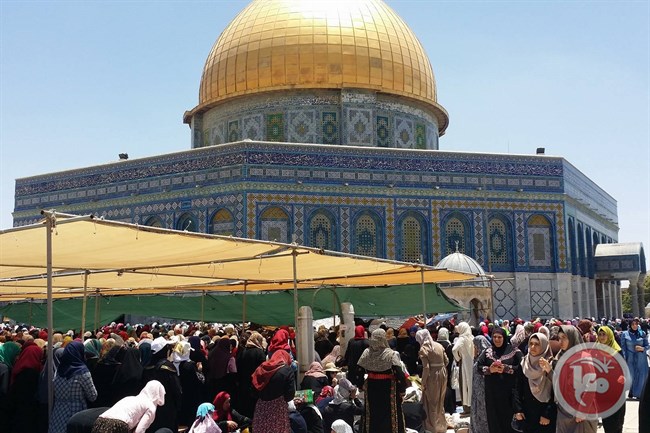 Gaza City, 25 Syawwal 1437/30 July 2016 (MINA) – More than 200 Palestinians from the besieged Gaza Strip traveled to occupied East Jerusalem to attend Friday prayers at the Al-Aqsa Mosque, according to Palestinian liaison officials.
The officials told Ma'an that 250 Palestinian worshippers, all above the age of 50, traveled to Jerusalem via the Erez crossing between the besieged enclave and Israel to attend prayers, before immediately returning to the Gaza Strip.
The number of Palestinians permitted to worship at Al-Aqsa was reduced by Israel last week, as Israeli authorities have typically permitted 300 elderly Palestinians from the small Palestinian territory to travel to Al-Aqsa every Friday.
A spokesperson for the Coordination of Government Activities in the Territories (COGAT), the Israeli agency responsible for implementing Israeli policies in the occupied Palestinian territory, told Ma'an at the time that Israeli authorities decided to reduce the quota of permits for Palestinians to travel to the Al-Aqsa Mosque for prayers as a result of Hamas and other groups "choosing to use the crossing permits given to them illegally."
The spokesperson added that the decision would continue to be reviewed "in accordance with the conduct of the Palestinians and their choice to respect the agreements with Israel."
Visitations of elderly Palestinians from Gaza were implemented as part of a ceasefire agreement that ended Israel's 2014 offensive on the besieged enclave.
However, due to Israeli security concerns and Jewish holidays, visitations have been frequently interrupted since their introduction.
The Al-Aqsa Mosque, cherished as the third holiest site in Islam, is located in East Jerusalem, a part of the internationally recognized Palestinian territory which has been occupied by the Israeli army for almost 50 years.
It is also venerated as Judaism's most holy place, as it sits where Jews believe the First and Second Temples once stood. The Second Temple was destroyed by the Romans in 70 AD, and some Jewish extremists have called for the destruction of the Al-Aqsa Mosque so as to build a Third Temple in its place.
The majority of the more than 1.8 million Palestinians in the Gaza Strip are sealed inside the coastal enclave due to a near-decade long military blockade imposed by Israel and upheld by Egypt on the southern border. (/R07/R01)
Mi'raj Islamic News Agency (MINA)