12th Week, Tens of Thousands of Israelis Demonstrate Against Netanyahu's Government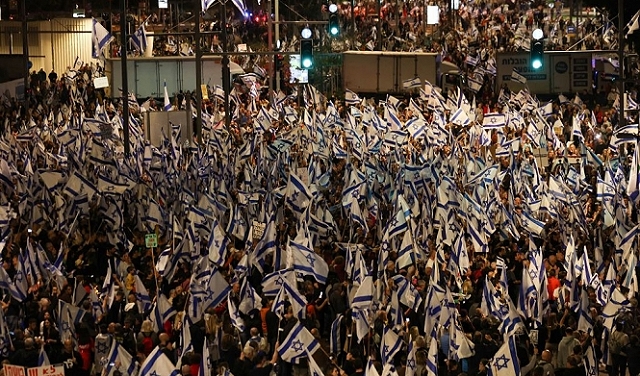 12th Week, Tens of Thousands of Israelis Demonstrate Against Netanyahu's Government (photo: Quds Press)
Tel Aviv, MINA – Entering the 12th week in a row, Saturday night Israelis took to the streets demonstrating against the government of Prime Minister Benjamin Netanyahu.
Residents staged rallies in Tel Aviv and several cities, crossroads and in the interior of occupied Palestine, in protest against the government's plans to undermine the judiciary and the Supreme Court, Quds Press reported.
In addition to the demonstrations in downtown Tel Aviv, thousands of Israelis also demonstrated in several occupied Palestinian cities, including Haifa, Jerusalem, Beersheba, Ashdod, Netanya, Herzliya, and Raanana.
Thousands of people demonstrated in front of the house of Israel's Security Minister, Yoav Gallant, in an attempt to pressure him to stop laws that undermine the judiciary.
Israeli police closed many roads in connection with the demonstrations.
Police also temporarily a number of demonstrators and used wastewater to disperse some of them.
Hebrew media reported that a mass counter-demonstration took place from supporters of Netanyahu's Likud party, in the settlement of Or Akiva near Haifa.
The Israeli opposition says its plans to reform the judiciary are "the beginning of the end for democracy. (T/RE1)
Mi'raj News Agency (MINA)